So, my recent post about winter activities in Rockbridge County got me thinking some more about winter hiking. Growing up in Virginia, winters were cold, but they didn't last forever. Like all the seasons here, winter seems to last a respectable three months and then gives way to spring. As a result, I never invested much thought, or money, into "proper" cold weather gear. If the stuff looked warm and was the right price, I'd buy it.
However, after moving to Minnesota, I quickly realized that my cold weather gear was less than adequate. Words like Thinsulate became important, while baselayers and wool socks became wardrobe staples. Price was no longer my only guiding criteria because by this point in my life I had an active two-year-old running around terrorizing my house and the proper gear for all parties involved made the difference in hours of house clean up time. In Minnesota, you don't wait out the winter, as we are often able to do here in Virginia. In Minnesota, you suit up and get outside, because winter lasts a lot longer than three months. And I'm pretty sure my house or sanity wouldn't have been able to hold up.
As a result of Minnesota's long winters and proper cold weather gear, I was able to gain a respect and appreciation for a season that I would often just muddle through. So, now that we are back in Virginia I try to carry on my appreciation for the season. With that in mind, I contacted our local outfitters, Walkabout Outfitters, in downtown Lexington and asked them about winter gear recommendations, local hikes they enjoy, and some of their favorite things about getting outside in the winter.
Without further ado, here are my questions they so graciously answered. (Thank you, Amy for helping us out!)
Please note, there are product links in this blog post, but it is strictly for informational purposes.  There is no affiliate program, just neighbors-helping-neighbors!
1.  What are your winter hiking "must-haves"/gear recommendations?
Paige: Baselayers, buff, Joshua Tree Hiker's Salve, Osprey Pack, Smartwool Socks
Jess: Headbands, Handwarmers
Amy: Vasque Breeze lll Hiking Boots
Cole:  Farm to Feet Socks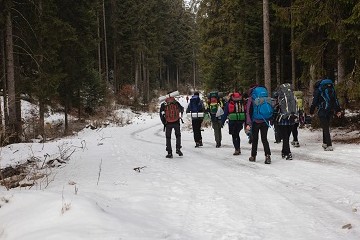 2.  What are your favorite local trails to hike in the winter?
Paige: St. Mary's Wilderness near Raphine, VA (10.2 miles)
Jess:  House Mountain (33 miles)
Amy:  Brushy Hills (29.4 miles)
Cole: Crabtree Falls (8.4 miles)
Ben:  Panther Falls (24.6 miles)
*Mileage was added.  Notes distance from Sugar Tree Inn to the trail.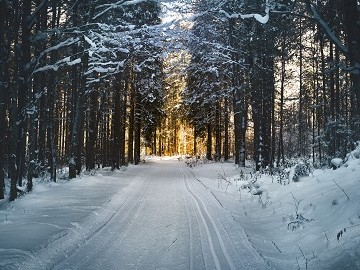 3.  What is your favorite thing about hiking in the winter?
Paige: Cooler weather, no bugs!
Jess: Solitude
Amy: More Visibility
Ben: Peaceful
So, there you have it. Have we missed any gear items that you love? What about hiking trails you have to hit in the winter? And while you're at it, tell us your favorite thing about winter hiking.
I hope this fuels your curiosity to explore our amazing piece of the Blue Ridge Mountains even during the winter months. With proper gear and some great hiking suggestions, you can't really go wrong! Plus, we know this great place you can stay. We've been told on more than one occasion that our breakfasts make the perfect hiking fuel; keeps you full well past lunchtime.
So, put down your phone, get outside and explore, whatever the weather.
We're looking forward to your stay!