You've been working at breakneck speed all day just so you can leave work early. As you step over your office threshold, your desk phone rings and its the call you've been waiting on since yesterday. Thirty minutes later you finally leave work and an hour after that you're on the road to your long overdue weekend away. You battle the rush hour traffic you are now stuck in and dodge semis like Mario Andretti down I-81 and I-64. Your stomach grumbles. You push it aside. You'll think about that once you get to your mountain sanctuary.
If that sounds like you. Stop. Breath. Relax.
Hopefully, your vacation buddy isn't reading this to you while you're en route, but if that's the case make sure you get to the end of this post before you get off the interstate.
Like the title explains, this post focuses specifically on eateries near Sugar Tree Inn, so approximately a 15-mile radius. Lexington and Staunton both have wonderful eateries, but they are a little further out, just over 20 miles in either direction, and warrant their own posts, so I'll delve into those later.
Right now, find the four closest eateries to us starting with the furthest out and working in.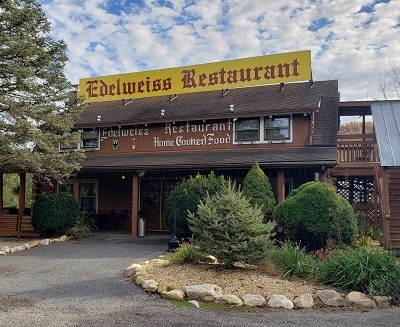 3. Edelweiss German Restaurant. (13 miles; 22 minutes). If you are looking for hearty portions, a festive atmosphere, good beer, and friendly staff, you've found the place. Edelweiss is a little piece of Germany in Virginia's Blue Ridge Mountains. Conveniently located off of I-81 exit 209 in Greenville, (or north on VA Route 11, if you are coming from Sugar Tree Inn), Edelweiss has been serving authentic German cuisine since 1981. Entrees range in price from $13 to $25 and sides are served family style. Vegetarian and Gluten-free options are also available.  The restaurant serves lunch and dinner and is open Tuesday through Sunday.
If you are interested in German wine and beer, it's hard to beat Edelweiss' selections, bottle or draft. Personally, I'm a sucker for a stein any day, or a boot glass, or any of their other fun beer glasses.
Oh, and have I mentioned Edelweiss' desserts?! Black Forest Cake, Apple Custard Pie, German Torte, Rice Pudding, Bread Pudding…I'll stop now, but you get the idea.
And if you still don't have enough calorie-laden reasons to visit Edelweiss, what about live polka music? That's right, most Wednesday, Friday, Saturday and Sunday nights be serenaded by the accordion and guitar. It's pretty awesome.
The only other piece of advice I have about Edelweiss is calling ahead. Edelweiss is a long-standing local tradition and as more and more travelers discover our piece of Germany, weekends, especially weekends during the fall season, are crowded. Don't risk being turned away. Reserve your table and experience German hospitality and cuisine in the heart of Virginia's Blue Ridge!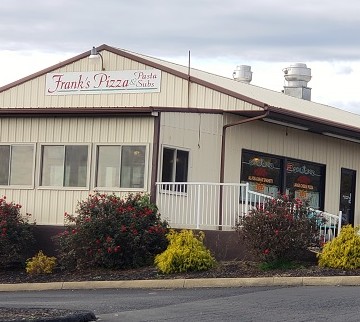 2. Frank's Pizza, Subs & Pasta – Fairfield location (10.5 miles, 21 minutes). On the other end of VA Route 11, toward Lexington, you'll find the second Italian restaurant on our list, Frank's. It may seem strange to have two Italian restaurants in such close proximity to us, but in actuality, the Italians have roots in these mountains dating back to the 1800s. Where do you think our little town of Vesuvius got its name? Italian immigrants worked in the iron ore mines and at the Furnace making pig iron.  The smoke billowing out of the old furnace chimneys reminded them of home, thus Vesuvius.
But, I digress. Let's get back to food. Pizza, Pasta, and Subs. Can there ever be too many Italian restaurants? Frank's is located off of I-81, the Fairfield exit 200. If you are traveling from Sugar Tree Inn just take VA Route 11 south.
Frank's began with Rino and Tony in 1989 with its original location in Lexington. They eventually expanded into Fairfield, which is good for us. Franks is open every day except Tuesdays for lunch and dinner. If you happen to be around on Monday nights, check out their dinner special: All-You-Can-Eat-Spaghetti, just $5.45! Like their name says, they offer cold and hot subs, personal, medium, and large pizzas, and classic pasta dishes. Most of their menu is at or below $10, and they do offer draft and bottled beers, as well as some wine selections. Vegetarian and gluten-free options are available.
We've eaten here numerous times, and I can't think of a bad experience. The hot subs have wonderfully crunchy bread. The pizza has generous toppings. And the service is friendly and speedy. Take-out or dine-in, Frank's is a restaurant that we, and many locals, will continue to frequent.
And last, but not least…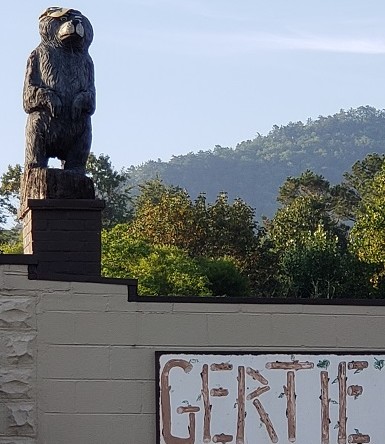 1. Gertie's Country Store and Deli. (4.1 miles, 12 minutes). Don't let the giant chainsaw bear on top scare you. Locals dine here daily: breakfast, lunch, and dinner. Gertie's namesake bought the store about 20 years ago and her daughter now runs things, carrying on the legacy of Granny Lou's Homemade BBQ. But this isn't just a BBQ joint. Gertie's serves hot and cold subs, German Bologna sandwiches, hot dogs, handmade-no filler burgers, and wings. The cole-slaw is homemade and the fries are crisp every time. Place your order at the counter and while you wait, read the walls, ceiling, window frames. Better yet, bring your Sharpie and leave your own legacy.
Gertie's is open every day except Mondays, but if you want dinner, don't get there much later than 5 pm because they start shutting the grill down. Fridays and Saturdays they do keep their grill up a little longer, so if you get there around 6 pm you should be good.  Sundays they are open 10:00am to 3:00p, Everything on the menu is under $10 and the staff is friendly and accommodating. We think it is an experience well worth your time.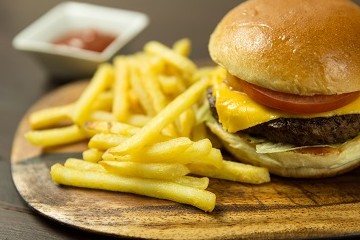 So there you have it. The top three closest local eateries to Sugar Tree Inn. However, I'd be remiss if I didn't also mention our truck stops. The truck stops are your last line of defense before you head up the mountain to us. Gertie's has a few snacks and drinks, and as I mentioned above, they start shutting dinner down around 5:30 pm and closes up around 6 pm most nights. Sometimes you're not in the mood to sit-down, and we understand. We don't judge. So consider this a bonus.
I-81, Exit 209/Greenville: Arby's and McDonald's.
I-81, Exit 205/Raphine:

Smiley's BBQ and Sports Bar
Orchard Creek Travel Center – Burger King
White's Travel Plaza – Iron Skillet; White's Deli; Louisiana Chicken; Subway; Nathans
Pilot Travel Center – Wendy's; Dunkin'
I-81, Exit 200/Fairfield: McDonald's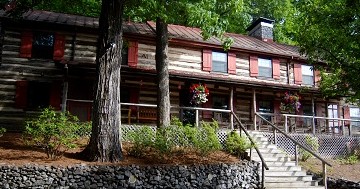 And of course, we can't forget ourselves. Dine at Sugar Tree Inn. While we may not offer a full sit down dinner every night of the week, we do provide dinner options every night of the week to our guests and starting 2019 we are changing things up a little bit. Last summer, we started offering dinner baskets during the week, which proved popular. We will be retiring our American basket and keeping our European style basket with cured salami, crackers, herbed cheese spread, fruit, nuts, olives and bread and we will now offer it any time of the day, all week long. The basket is perfect for a late check-in snack, dinner, or lunch. It also pairs well with some of our local wine.
Staying with us Friday and Saturday? Then you will be able to enjoy our sit-down dinners. We've just finalized our Winter 2019 menu, so here's a first glimpse. During the weekends of January, February and March of 2019, we will be offering an all-inclusive package that includes dinner and breakfast during your stay. Friday night dinner will be a soup bar served from 6 pm to 8 pm and will include two soup options and warm bread. Eat as much as you'd like and eat when you'd like. Saturday evening we will serve a sit-down dinner a 6 pm, which will include a spring salad, warm bread, and an entree with two sides. Our entrees this winter are pecan-crusted trout, crab cakes, chicken cordon bleu, and beef short ribs. (See our menu for details.)
And that is that. We hope you'll give our place a try and we're looking forward to your stay!