After a long chaotic week at work and fighting commuter traffic, treat yourself to the slower pace of the Blue Ridge Mountains. Join us the weekend of June 7th – 9th as we launch our 2nd annual wine tour of the award winning vineyards in Rockbridge County.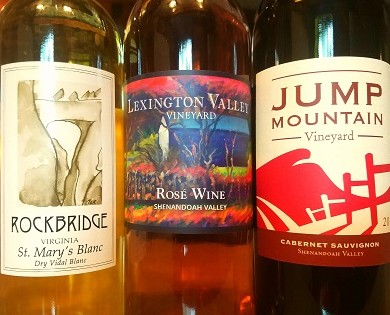 Our celebratory weekend will include:
Casual, Non-Pretentious Tasting with Heavy Hors D'oeuvres (Friday, June 7th);
Six (6) Wine Samples: Two (2) from each vineyard;
Social Champagne Hour (Friday, June 7th);
Full Country Breakfast (Saturday, June 8th);
Chauffeured Vineyard Tour (Saturday, June 8th);
Picnic Lunch (Saturday, June 8th);
Casual Cook-out style Dinner (Saturday, June 8th) Optional;
Full Country Breakfast (Sunday, June 9th); and
Souvenir Insulated Lunch/Wine Tote.
Interested? Here's a little bit more about the exclusive experience that awaits.
Friday, June 7th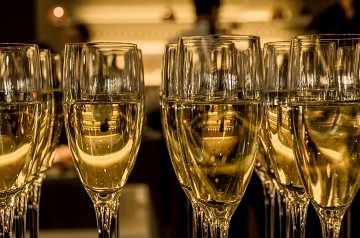 All you have to do is drag your work weary self through our doors and we'll take care of the rest. Our celebration begins at 5:30pm with a palette cleansing social champagne hour and amuse-bouche, which is just fancy talk for tiny, single bite food. We can't have you drinking on an empty stomach, so join us for bubbly and meet some of the other revelers.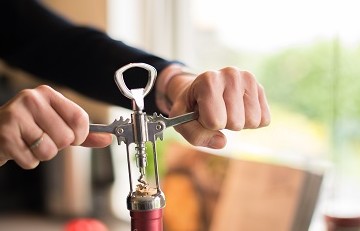 At 6:30pm we'll switch gears to our heavy hors d'oeuvre pairings with wines.  Tasting stations will be set up in our Tavern, so you can mingle and taste at your leisure.  Much like last year, similar wines from the vineyards will be paired together with food and tasting note cards will be provided to help you remember what you liked and what you want to know more about during Saturday's tour.
And for dessert, we will also be bringing back our homemade berry chutney cooked with Rockbridge Vineyard's V D'or, which is their version of an "ice-wine." Warm chutney served over some pound cake isn't a bad way to wrap up the night.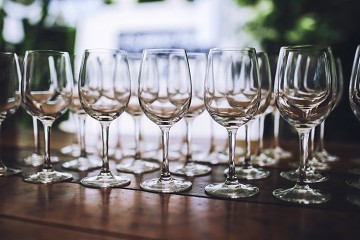 Saturday, June 9th
After a restful nights sleep, join us from 8:00am to 9:00am for a full country breakfast: eggs made-your-way, sausage, biscuits, fresh fruit, juice and of course, endless coffee and tea. We'll fill you up so you're good to go.
By 11:00am, your picnic lunch, with sandwiches provided by local gem – Gertie's, will be ready for pick-up in our Lodge and the shuttle service will arrive. Transportation services are provided by E'S-Y Rider Cab Company, out of Buena Vista, Virginia.  They provided transportation for a wine tour last year to rave reviews.  Tour departure time is 11:30am.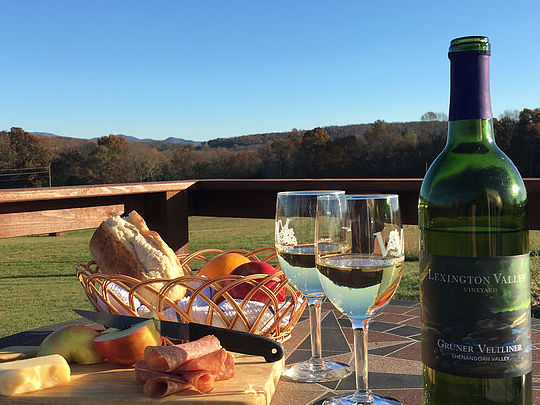 You'll wind your way down the mountain and out into Rockbridge County traveling Virginia's scenic byways. The tour begins at Lexington Valley Vineyard, family owned and operated since 1999. Their intimate tasting room opens up to a beautiful sundeck with expansive views of the vineyard set against the rolling hills. The view is quite inspiring. Case-and-point, wander over into their event space to take a peak at the local art adorning the walls. You may notice a similarity between the vineyard's picturesque views, their wine labels, and the hanging art.
Note: If you are interested in the wine making process, you should definitely ask this family. We were delighted to hear, see, and taste their vision of wining making.  Additionally, Lexington Valley Vineyard has graciously extended an exclusive 10% off discount to our tour participants on tasting room purchases. So, be sure to stock up.
Around 1:30pm, you will load back up and experience the rolling farmlands of Rockbridge Baths on your way to Jump Mountain Vineyard.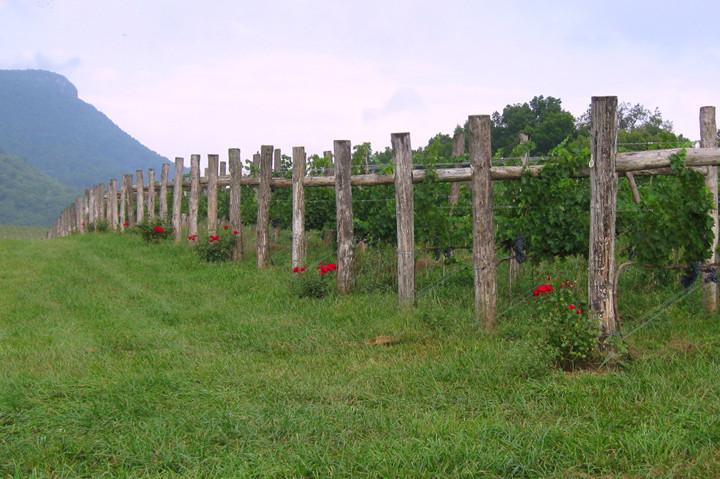 Jump Mountain Vineyard is another family owned vineyard, established in 2006 when the owners purchased a 32-acre farm. You will experience your wine tasting in Jump Mountain Vineyard's innovative winery building, designed to blend in with the farmland surroundings, but constructed to utilize the land and aid in the vineyard's wine making process. Your time at Jump Mountain Vineyard will include a tour of the winery, and don't forget to ask about their wine making techniques. Jump Mountain Vineyard also has an outdoor patio area, which is perfect for you to enjoy your picnic lunch with the backdrop of the vineyard property and its name-sake. Don't forget to purchase a bottle or two before you head out.
By 2:30pm, you will be on your way to the final vineyard of the tour by way of the historic village of Brownsburg; a community frozen in time. Experience an 18th century Shenandoah Valley community when stagecoaches ruled transportation and Cyrus McCormick and his mechanical reaper were coming into their own.

Once you've arrived at Rockbridge Vineyard, your tasting will take place in the vineyard's beautifully renovated barn. Be sure to pay attention to the wine bar construction. Rockbridge Vineyard is the largest vineyard in Rockbridge County and as such, you will be treated to at least a half dozen wines. Purchase a few bottles with the local discount Rockbridge Vineyard has extended to our tour: 10% off. Enjoy your purchase in Rockbridge's tasting room, out on their deck or pergola, or play some corn-hole while you imbibe.
Final boarding will be around 4:00pm and you'll return to Sugar Tree Inn, safe and sound and relaxed. For all those interested, we will host a cook-out style dinner around 6:00pm Saturday evening. No need to drive anywhere, or wander off the mountain in search for food. We've got it for you. Saturday evening's dinner will be grilled chicken, brats, and burgers, corn on the cob, homemade redskin potato salad, and whatever else we can think to whip up. Bring one of your new favorite wines to dinner. No corkage fee here. And savor your meal inside or out among new friends.
Sunday, June 10th
And last, but not least, one more meal: a delicious breakfast. Fresh coffee and tea is always ready a little before 8:00am, so come on over. Check-out isn't until 11:00am, so you can soak up a little more solitude before you head back to your routine.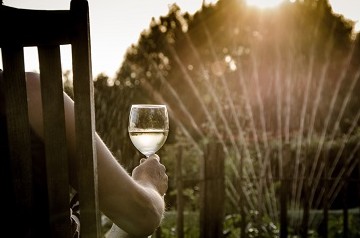 As you can see, we have a weekend full of good food, good wine and good friends. No room for pretentiousness. We're excited to put our money where our mouth is and support our local vineyards. We may not have as many vineyards as Nelson Country or Albemarle, but you know what they say…size doesn't matter, or something about quality not quantity.
Either way, we are looking forward to sharing our vineyards with you and hope you'll join us for our exciting launch! A chauffeured tour like this around Charlottesville would cost you over $150 per person. We are offering the WHOLE package to you, including Friday's dinner and Saturday's tour, for only $140 per person. If you are interested in Saturday dinner with us, we'd be happy to provide it for only an extra $15 per person, which is a discount of 50% from our normal Friday/Saturday dinners.
So for less than the price of one wine tour around Charlottesville, we can provide you with a chauffeured wine tour, two nights worth of dinners, picnic lunch with souvenir bag, AND breakfast every morning of your stay. And don't forget we'll throw in comfortable beds, crisp mountain air, spectacular views, and laid back hosts for FREE. We hope you'll join us!
Book Now! Space IS limited.