Redneck. Hillbilly. Backward. Ignorant. Words that are easily thrown around to describe rural America and the people who live here. But backward and ignorant people aren't exclusively found in small-towns, so why do small-towns get so much flack?  What is it about small-town life that is so inferior? And is it inferior, or is it a little bit of envy?
I don't have the answers to those questions, but I do have the answer to who lives in small-town America. I know the lady that runs the country store and flips the burgers for her lunch crowd. I know the lady that works at our small one-room post office who sorts the mail, maintains the county library book cart and moonlights as a waitress. Some of us choose to retire here, some of us choose to transplant here, some of us choose to come back home, and some of us choose to never leave, but all of us make up this community. And these are the stories that I want to share with you over the course of our Small-Town Choice Series.
Meet Melinda and Gerald…
Melinda and Gerald lived and worked in Charlotte, North Carolina for many years, with their little Dachshund, Grace. But small town living was in their blood, so in 2016 they chose to retire in Rockbridge County, Virginia. Melinda grew up in our neck of the woods, born in Lexington, Virginia, raised in Augusta County and spent summers in Goshen at her grandparents' farm. She went to college at Berea College in Berea, Kentucky, current population 13,561, where she met Gerald. After graduation, life took the two in different directions, but twenty years later, life brought them back together and in 1999 they married.
The call of the mountains and the echo of the valley rang in Melinda's blood and in 2011, Melinda found herself in Lexington, Virginia for work. She drove up to check out a building for sale in Fairfield, Virginia, current population 2,098, and that was it. Melinda and Gerald bought the property in November and began what turned into 18 months of renovations. Three Seasons Antiques & Unique Treasures opened its doors in March 2013, fully stocked with 16 moving-truck loads of items that Melinda collected over forty years in anticipation of her dream, running an antique shop.
Earlier in 2013, Melinda retired from her 31-year career with the YMCA to embark on her second career. For the next three years, Melinda and Grace, the self-appointed store manager, lived in Fairfield on the days the store was open, then commuted back to Charlotte. In 2016, Gerald retired from his career, spanning hotel management to school nutrition, and the family of three moved into a small farm in Rockbridge Bath, Virginia. Gerald has since begun his second career in woodwork, repurposing and creating furniture for Melinda's shop and his own enjoyment.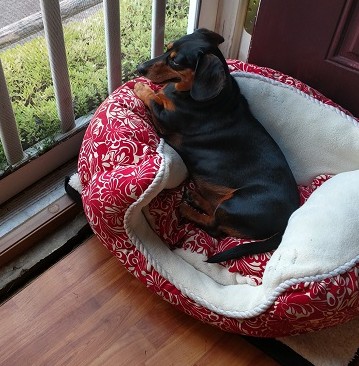 Shop Talk with Grace.
Hoping to gain some unique insights to pass along to you, I sat down with Grace for a chat about the store, small-town life, and her family.
Upon entering 3 Seasons Antiques & Unique Treasures, I was immediately welcomed by Grace. She helped me get my bearings, explained the store layout, then retreated back to her office to let me explore at my own pace. As I wandered the store, the doorbell continued to chime and each time, Grace politely welcomed the new customers, then gave them the opportunity to discover treasures within.
My first impression was that the store was much larger than I had originally anticipated. From the outside, the store appeared like a one-room building, but inside I was delighted by space and multiple rooms, each with its own theme.
Despite all of the treasures in the store, space was not crowded and cluttered. There was plenty of room to walk around, turn around and move. The themed rooms were well planned out and logically grouped together, offering small items to large and everything in between.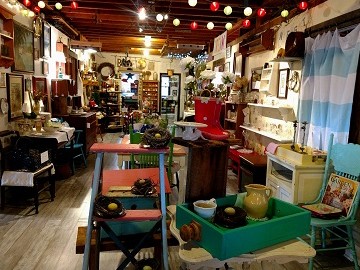 Grace's Office.
Once I finished exploring the store, I found Grace in her office, but she opted for us to have our interview in the store's front sitting area, which she revealed was the men's favorite section of the store. I can see why. There is a couch, a few chairs, tables adorned with magazines and local information, and sometimes, Grace told me there are even human treats and coffee, which she doesn't care for, but the customers seem to enjoy.
First things, first, I had to ask Grace about her office, which was located behind the front register area and included a view of Route 11. She puffed up with pride and told me her parents created her office so she could have her own space and come to work with Melinda every day. She enjoyed greeting the customers, but she liked having her own space, plus she didn't want to seem too pushy. Grace also divulged that Melinda paid her every time she returned from greeting a customer, so why wouldn't she return to her office. I looked up and noticed the container of treats that I'd missed earlier.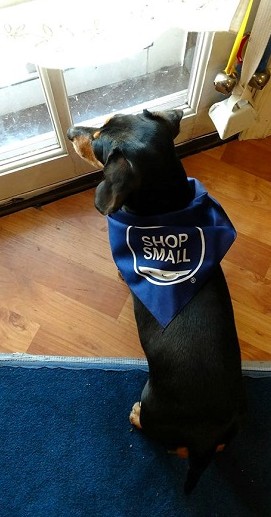 Local Love.
A few minutes into our discussion, Grace stopped, perked her ears and ran to the door to greet the next customer, but I could tell this customer was different. Grace grew excited before the customer entered the store. Melinda came over and explained that Lynne had just pulled in. She was a local and regular shop visitor, so Grace knew Lynne by her car.
Once the meet-and-greet was over, Grace came back to our discussion. She told me that the relationships she and her family had built with the other Fairfield business owners and residents were one of the things she loved about living and working in Rockbridge County. Plus, she knew Melinda loved it when locals came by the shop to chat and catch up.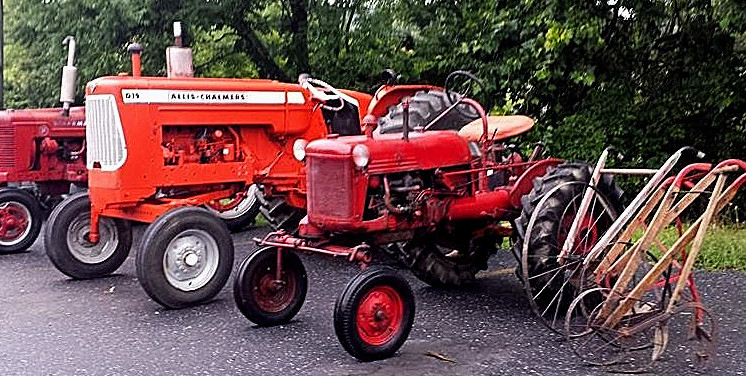 Small-Town Traffic.
On that note, I asked Grace if there were any surprises to small-town life. She told me traffic was surprising. She's had a lot a time to observe the traffic from her office. In fact on nice days, Melinda opens the outside door to her office, so Grace can watch everything through the screen door. So Grace considered herself an expert on Route 11 traffic and concluded that people drove too fast. She barked for them to slow down. She didn't think they could hear her, but she told me she will continue her campaign.
Grace's other observation about traffic had to do with the amount, there was minimal traffic compared to Charlotte and Grace loved it. Give her a commute to work behind a tractor any day of the week versus the hours of stop and go interstate gridlock. No thank you. Small-town life and traffic suited Grace just fine.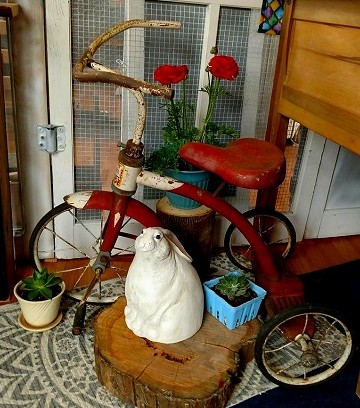 Store Treasures.
Switching gears a little, I asked Grace about the store. Where did Melinda and Gerald get all of these treasures? Grace said that Melinda has had a love for antiques as long as she has known her and that her parents would go on shopping vacations around Virginia, yard sales, estate sales, anywhere there was a promise of a treasure, Melinda and Gerald were there. Grace surveyed the shop, then revealed a secret: as many items as there are in the store, Melinda still has storage units full of more treasures just waiting to be shared.
With such a wide variety of antiques, I was curious if any one type of item sold more than others. Grace reported that as far as she could tell, sales were all over the place. Everyone visited the store for their own reason, some DIYers asking about project items, some passersby exploring the area and taking a break from the interstate, and some people checking out Melinda's ever-changing inventory.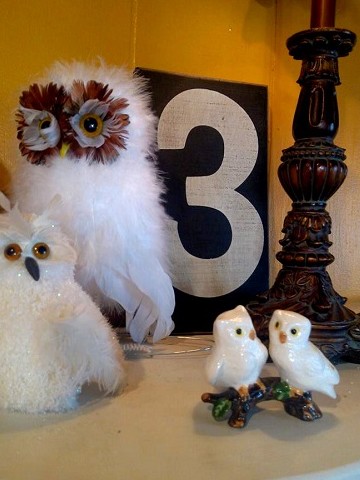 Why "3"?
As our conversation wrapped up and I stood up to leave, the number 3 caught my eye and I realized it was a recurring theme around the store. I asked Grace about the significance of the number three and she just snorted, smiled, and trotted back to her office. Melinda came over and told me that the number three played an important role in their lives and by extension the store. There are three members of their family. The store is only open for three seasons, three days of the week (Thursday through Saturday), from 10:03 am – 4:03 pm. And if you look carefully, you will notice that every price has a "3" somewhere in it. Happy hunting!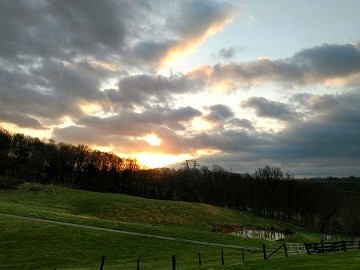 A Few of Our Favorite Things…
In closing, I asked Melinda, Gerald, and Grace their favorite part of living, working and playing in Rockbridge County. I couldn't think of a better way to end this article, than sharing the list they created:
Mountain views.
Sunrises and Sunsets.
Stars.
Dark, dark nights.
Pastures of farm animals.
Wildlife.
Traffic, lack of.
Diversity of people.
Opportunities for entertainment.
Being part of a community where people know and care about each other.
Being HOME.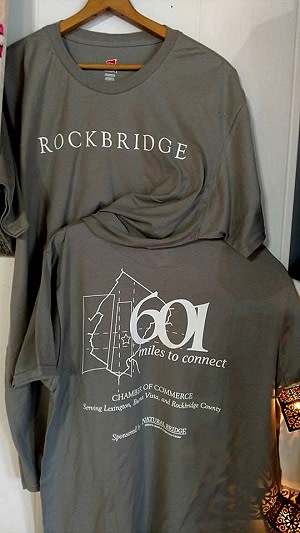 Closing Request.
So, we've shared one of many stories in Northern Rockbridge County, Virginia and why they continue to chose small-town life. What is it about small-town living, working, and/or playing that you love best? We'd love to hear from you. Feel free to share this post and reply to the Facebook comments section below.
Until next time, we're looking forward to your stay.