Whether it's a crazy guest, which we don't normally have, crazy Mother Nature, which we often deal with, or just our unbelievable luck, which is very much a case of fact being stranger than fiction, we have tales to tell because like your life, ours is not perfect. Life may look tidy and smiley and idyllic when you're here, but that is part of our job, that is part of innkeeping.
Every so often guests want to peek behind that vale. With eyes wide, eager for knowledge, they'll ask, "What's it like to be an innkeeper?" Whether the eagerness is rooted in curiosity, a burning desire to one day be an innkeeper, or some combination of both, I don't always know. But innkeeping and how we came to be innkeepers, seems to be a popular line of discussion, so I thought I'd share a little about our world with you so you can laugh along with us in the absurd chaos that is often our life.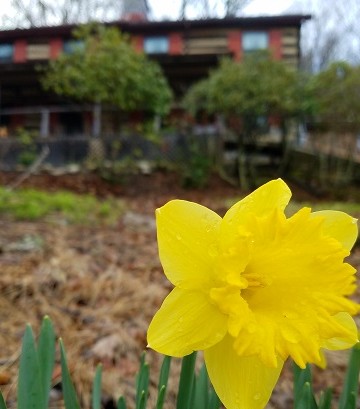 WINTER STORM WESLEY
This is a tale about Mother Nature. So, you probably don't know this about me, but sensationalized weather drives me crazy. Upcoming storms and weather seem to be so over-hyped these days that we are all sent into an anxiety-ridden tailspin anytime rain is in the forecast. I hate that feeling, so I choose to stay away from weather news. I check the forecast every couple of days and generally, I'm a much happier person. Besides, half the time, because we live up around 2,800 feet in the Blue Ridge Mountains, the weather forecast is wrong. We get more or less than down the mountain depending on Mother Nature, so just knowing that snow or rain is in the forecast is usually good enough for me.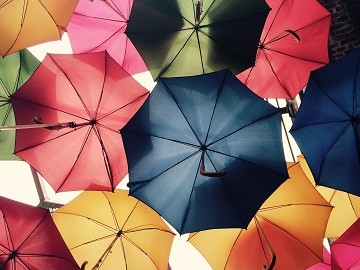 As a result of my predilection, I was caught unaware by last Sunday's rain, aka Winter Storm Wesley. (I just looked the storm name up this morning.) For the most part, rain is rain. Russ will always be a little grumpy when it rains, due to overflowing gutters, despite his best efforts to keep them clean. Debris and gravel always get washed around the property. And hillside erosion and proper drainage are real issues. Oh, and new leaks always seem to appear; they are like whack-a-mole around here. So I can understand Russ' grumpy state. As an engineer, issues like the ones mentioned drive him batty.
Anyway, back to this Sunday, we had one check-in and they arrived during the on-and-off misting portion of the day. I showed them around the property, got them settled into their room, then headed back to our place to enjoy a quiet family Sunday dinner.
Photo by Aleksandar Pasaric from Pexels
Then the down-pouring occurred. Russ dutifully suited up and rode around the property on his four-wheeler to check on buildings, our driveway, and other potential problem areas. All looked as well as could be expected with the onslaught of rain we were getting, so we poured some wine and sat down to dinner while severe weather warnings blared on the local radio station.
Photo by Nur Andi Ravsanjani Gusma from Pexels
Then the phone rang. It was our guests. Water was coming into their room. I suited up this time, readied one of our larger lodge rooms for the free upgrade we were surely going to give them, then ducked into the rain to check on our guests. When I got to their room, there was, in fact, a small stream that started in the corner of the bedroom and was slowly snaking its way across the floor. I apologized profusely and the guests graciously accepted the new room on higher ground.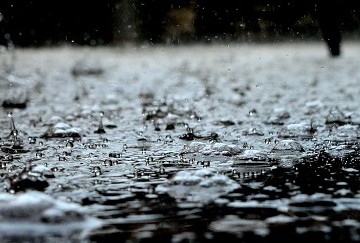 After dinner and the worst of the downpour, I doubled checked on our guests and their new accommodations while Russ hauled our commercial carpet cleaner, a wise investment after we arrived, down to the room to start the process of sucking up water. I stayed at the house and tended the end of the night clean up and bedtime routine with our children.
Russ and I finished up around the same time and flopped onto our bed. Russ reported that the carpet was salvageable; he was able to get the water out and set the dehumidifier up to help dry out the room. We'd look at it again, the next morning. One of our fears was that we'd need to replace the carpet, which would mean approximately $1,000 in labor and material and two weeks of lost potential revenue on that room. We learned this lesson approximately six months ago when we awoke to a foul smell and an overflowing toilet emanating from another room; don't worry, no guests were in the room at the time of overflow. But that is a tale for another day.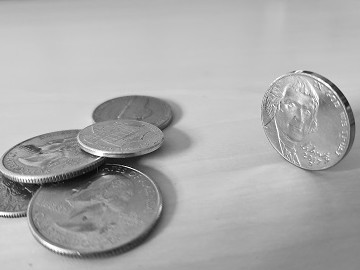 Two Sides of the Same Coin
On one side of the coin, you have our guest experience: a free upgrade and a funny story to tell about their trip to America. They were from Sweden. On the business side of the coin, you have two dirty rooms to clean with extra labor costs, all for the price of our standard room, minus 21% because it was purchased using an Online Travel Agent, such as Expedia, and they require commission fees. (One of the reasons why #BookDirect is so important to innkeepers and bed and breakfast owners.)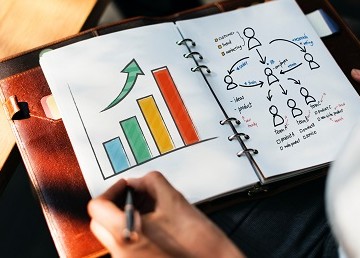 End Result
Of the nine rooms we rent, only the one that was booked for Sunday had any water issues. However, our guests left happy, well rested and with a full belly, so I guess we'll call this a success?
Well, there's a glimpse into our innkeeping life. It is a constant balance of guest expectations and experience, business logic and best practices, and our family life. What kind of crazy shenanigans go on in your life? I'd love to hear about it. If we can't all laugh together about what life throws at us, then what's the point?
Until next time, we're looking forward to your stay!