According to Virginia's tourism website, Crabtree Falls is the "highest vertical-drop cascading waterfall east of the Mississippi River," which is probably one of the reasons it is such a popular hike regardless of the season. Crabtree is comprised of five major falls and numerous small falls, totaling a distance of 1,200 feet or 1,000 feet, depending on what source you're reading. As a visual comparison, you are hiking a little more than the height of the Eiffel Tower and a little less than the height of Empire State Building, sans tip.
Crabtree Falls, from Publications Archives, Artist Unkown (sic) (Hiking Guide to the Pedlar District.  2002)
Crabtree Falls is part of George Washington National Forest and well maintained by the US Department of Forestry. The hiking trail itself is a series of switchbacks and stairs trailing along the falls, so the rushing water is always within earshot if not eyesight.
Now, on to these insider tips I promised.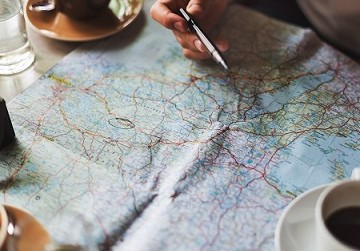 1. Crabtree Falls in Virginia, not North Carolina.
In case you aren't an avid hiker and don't know the names of all the trails on the East Coast, i.e. someone like me, then a quick Google search might lead you astray if you aren't paying close attention. There is a Crabtree Falls hike in North Carolina.
But wait, any dummy could see the difference, you say. Not so fast. Both hikes are located just a few minutes from the Blue Ridge Parkway. Virginia's Crabtree is approximately 6.5 miles from Blue Ridge Parkway Mile Marker 27, but, as stated above, it is part of the George Washington National Forest, and therefore maintained by the US Department of Forestry. North Carolina's Crabtree is right off Blue Ridge Parkway Mile Marker 339 and is part of the Parkway, which is maintained by the National Park Service. Additionally, both hikes are noteworthy enough to be included on the Blue Ridge Parkway Association's website.
Major difference: Virginia's Crabtree Falls is out and back. North Carolina's Crabtree Falls is a loop.
However, a commonality between both hikes is approximate distance, more than two but less than four.  Additionally, estimated hiking time is similar, two to three hours, depending on skill and breaks. While researching Virginia's Crabtree, mileage reports were erratic and required closer examination, some reports put the mileage well over ten. I was thoroughly confused.
So, here's the scoop. Virginia's Crabtree Falls hike is somewhere between 3.4 miles to four miles up and back, depending on where you consider your start.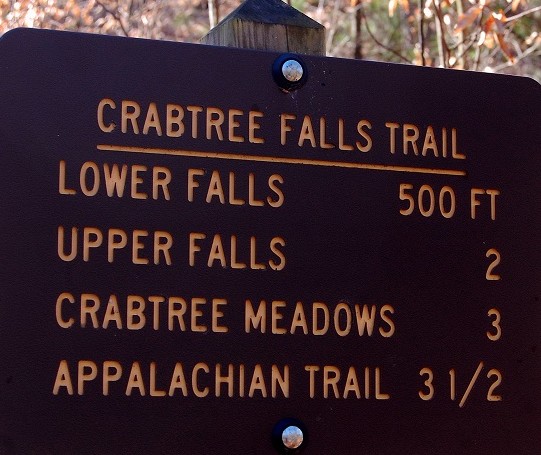 Any mileage noted vastly greater than four miles includes adjacent hikes, mainly Crabtree Meadows, Spy Rock and The Priest, (the last two are part of the Appalachian Trail), all accessible at the summit of Crabtree Fall's trail. (I'll explore these additional hikes in a future post.)
Mileage estimates closer to four miles are probably due to parking expansions over the years, which shortened the beginning of the trail, thereby shortening the mileage.
Finally, when planning your hike, if you see names like Nelson County, Montebello, Tyro, Massie Mill congratulations, you are in Virginia.
Plan away.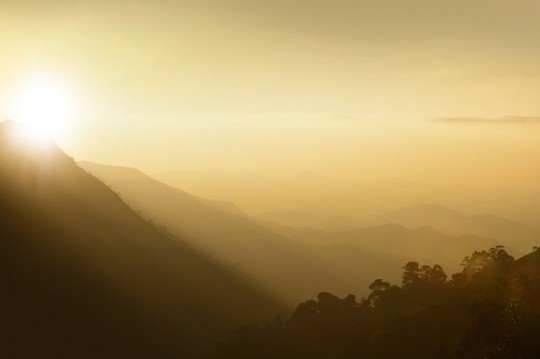 2. Go Early in the Day.
Now that you are confident you are in the right state, I mean commonwealth, hike early. Eat a hearty breakfast, grab your water, and hit the trail. The parking lot has two areas with ample parking. During peak seasons, namely spring and autumn, tour buses have been known to park out on the main road into the forest, Route 56, which is crazy because Route 56 is a mountain road. Translation: Route 56 is windy with patches of gravel, and at times narrow with minimal guardrails. Just imagine a full grown pot-belly pig trying to maneuver on a balance beam. You'll understand.
At the time of our second attempted hike in mid-March, we arrived in the parking area a little after 11:00 am. There were approximately a dozen cars in the upper area and maybe half a dozen in the lower area. By the time we left the trail, around 12:30 pm, the upper area was full, the lower area was over half full and there were four or five vehicles waiting to pay and enter the lot. We also passed a few cars on the way home that looked suspiciously like they were heading to the Falls, mainly their clean cars and city decals gave them away.
Despite the trail's popularity, parking is usually not the issue. The issue arises with an overcrowded trail. It is a favorite hike among couples, families and dog owners, so there can be a lot of waiting to let people pass and/or go around. Much of the trail is wide enough for passing with numerous pull-off areas, but there are still some tight passages and the more people on the trail the more difficult it becomes to navigate, especially a trail with such picturesque views. Someone is always stopping for a selfie.
Know your temperament and plan accordingly.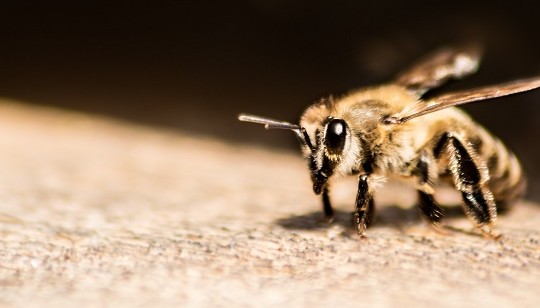 3. Beware the Bees.
The first time we attempted the trail was mid-week in early August. The weather was perfect, pleasantly cool and little humidity. On a whim, we loaded up late afternoon with the plan to just explore what we could of the trail until dinnertime. Our only agenda was to get outside and enjoy the Blue Ridge Mountains. Besides, we'd been recommending this trail for months, so we wanted to see what it was all about.
Well, we made it a solid half mile, before the "my legs are slowing down" chorus began from our, at the time, four-year-old. We squeaked in a few more tenths of a mile, then turned around in order to avoid total meltdown mode. It was getting close to dinner.
Then, a few switchbacks later, total meltdown happened, seemingly out of thin air. We were laughing, enjoying the fresh air, then screaming and tears. At first, I thought our four-year-old might have hit himself with the obligatory little boy stick he was brandishing, but I was behind him so I would have seen the impact. No, this was different. Peeling away his fingers from his arm, I saw the beginnings of swelling and remembered the bees.
On the way up, we noticed bees along the trail, close to some of the stairs and an overlook, but didn't think anything of them. It was August. We were in the woods. Flowers were blooming. Not unusual. We gave them their space and proceeded up. Now, there we were, a few tenths of a mile between us and our car, with one noodle child and one sleeping eleven-month-old. (A noodle child, in case you don't know, is what I call my children when they just go limp. Their bones have mysteriously disappeared and simple tasks like walking become impossible. In this instance, the noodling is totally understandable and justified. The poor kid got stung by a bee.)
So, my husband slung our crying four-year-old over his shoulder and trekked it to the parking lot. I followed behind watching the wet patch of tears and snot expand across the back of my husband's t-shirt, while our blissfully unaware eleven-month-old slept in her backpack on my back. We all survived.
The moral of the story: Be prepared. I found out after the fact, that bees can be a nuisance on the trail. Many of the handrails are pipes; perfect bee nesting locations. If I had known beforehand, I may have altered my plans. So, I'm extending the knowledge to you. Plan accordingly.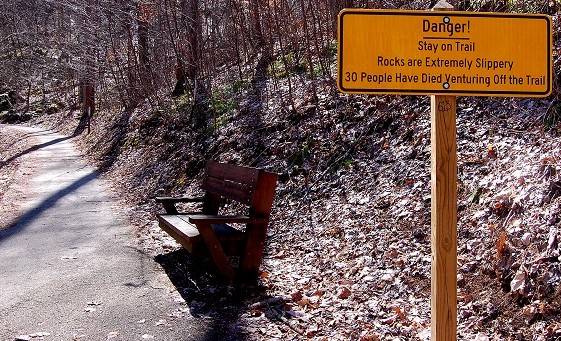 4. STAY ON THE TRAIL.
I know I went all cappy on that, but this tip is SO, SO, SO important. People have died on this trail, thirty people, to be exact, with the most recent death occurring in 2015. Dogs, too. Heed the signs. Heed the rails. Heed the barriers.
Many of the deaths occur when people walk around the barriers to get that "great shot" or "get a better view." The views you get on the trail are amazing. And is that better shot really worth your life? Remember before when I mentioned the Eiffel Tower and the Empire State Building. Gravity is gravity people and at Crabtree Falls there are sticks and rocks all the way down and at times, a very cranky river that has been known to flood towns. (See Hurricane Camille 1969)
But I'll look before I step on any rocks. I'll be careful. NO. Unless you have infrared vision, you will not see the clear algae you are getting ready to slip on. In fact, infrared won't help. Don't try it and don't step around the rails.
We actually have clear algae on some of our decking and I can't tell you how many times I've gone down. AND I KNOW IT'S THERE.
Well, I have proper hiking trail shoes. I'll be safe. NO. Footwear is not the issue. You cannot see the algae. What if your whole foot encased in your special trail shoe steps on an extra large patch of algae? Or you step on a small patch of algae with a small part of your shoe, because you were being careful? Nope. You're still going down.
People, the algae is clear, invisible, unseeable, camouflaged. Do I need more synonyms? Because if it keeps you safe, I will generate synonyms all day.
Besides picturing the Eiffel Tower and Empire State Building while you are merrily ascending the trail, take a second to remember where you are. You are in the middle of the forest, in the mountains. Yes, you may be surrounded by people and the trail may be as bustling as your local farmer's markets, but out here cell service is spotty and the rescue team is not a block away. Even if the rescue team was a block away, don't forget the windy road you drove in on. You are dealing with mountain miles out here, just a few miles can take minutes. My in-laws only live six miles away from us. It takes us twenty minutes to get to their house. We actually cross a stream, literally drive through the stream. No bridge. Mountain miles, people.
If you hurt yourself on the trail, you have to wait. You have to wait for the rescue crew to arrive. You have to wait for the crew to hike into you. Then you have to wait as the team loads you on a stretcher to hike you out of the trail. Meanwhile, you're doing all this waiting with a broken or sprained something. No thank you.
Seriously everyone, heed the signs, heed the rails, heed the barriers. Be mindful and be safe. (This also applies to pet owners. Keep your dog leashed. They can, and have, slipped on the rocks.)
*Step down from box.*
So, those are my insider tips to hiking Crabtree Falls like a local, just a few things to consider while planning your trip. Hope they helped. Be safe and get outside and play! Below are a few more tips, I couldn't resist passing along.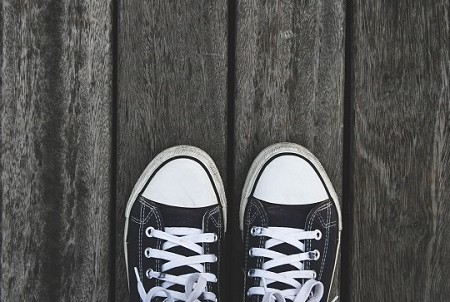 Check out the wooden footbridge over the Tye River. (As you're driving in, the bridge is to your right, off the lower parking lot. There is a small picnic area there, as well. The bridge used to be part of the trail, but over the years additional parking has truncated the beginning of the trail.)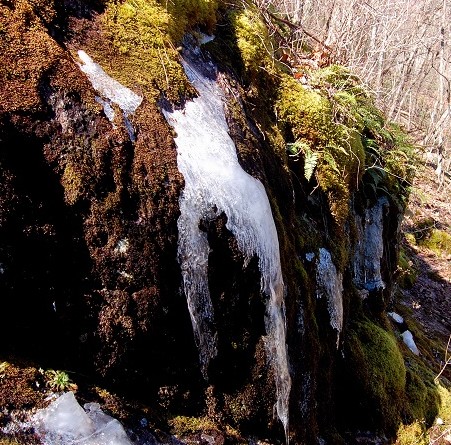 Explore the rock cave. (That's right; you're welcome. Have fun!)
500 feet of paved trail. (Even if you are unsteady on your feet, use a cane, wheelchair, or are pushing a stroller, the first 500 feet of the trail is paved and there are sitting areas. There's no need for you to miss out on this site.)
Stay hydrated. (Water. If not on you, then in the car.)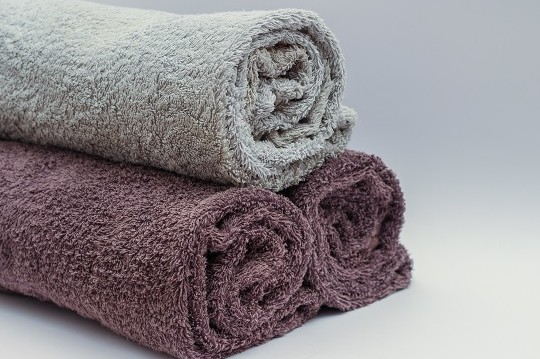 Bring a towel. (The trail can get muddy, so a towel or trash bag could save your car.)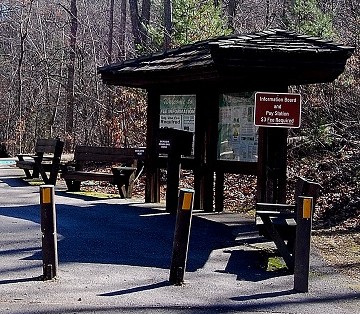 There are two paying kiosks. (Parking is $3 a day, which you can pay right as you enter or at the head of the trail. Sometimes there can be a backlog of cars at the entrance, so cruise on around and pay at the second kiosk, just remember to pay and place the ticket in your car.)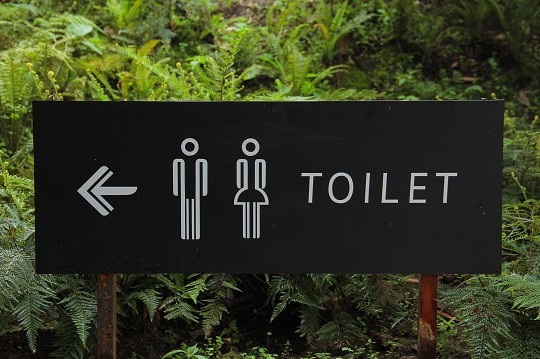 Restroom facilities are on-site.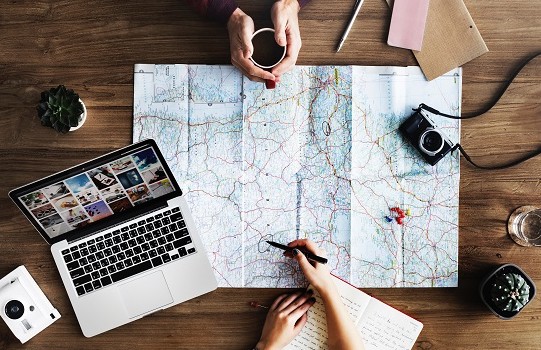 Final note. I promise. As you are researching the hike, you will see it's rated all over the place: easy, difficult, moderate. Remember, it's all subjective. Know yourself. The trail is hikable. It is well maintained and there are numerous places to rest. Go at your own pace and don't forget to enjoy and respect Mother Nature.
Alright, hiking extraordinaires. we'd love to see your pictures from the trail. Tag us in a comment on Facebook, or post a picture on our page. We'd also love to know your insider tips. Many of our patrons hike Crabtree Falls every year and have their own story to tell. We'd love to hear it. Feel free to reply to this Facebook post with your experience.
Until next time…We're looking forward to your stay!