If you have researched Sugar Tree Inn in the past few months, you may have noticed our name on some new websites. We know that most travelers today thoroughly research their travel destination and lodging, so in an effort to introduce travelers to the wonders of Sugar Tree Inn we recently partnered with BedandBreakfast.com, Expedia, and TripConnect through TripAdvisor, just to name a few online travel sites.
However, we are so grateful to all our mountain lovers, old and new, and those yet discovered, and we'd like to encourage you to continue, or proceed as the case may be, to book direct with us. Below, find the top four reasons why we think you should book direct with Sugar Tree Inn starting in reverse order with number four.

Source: Pixabay
4. Flexibility. Since Sugar Tree Inn is just me and my husband, we have the ability to be flexible with reservations and the application of our policies. We understand that life happens and we try to work with you to reach an agreeable outcome. If you book through an online travel site, we lose that connection with you, and when life happens, because you know it will, we all have to go through a middleman to make adjustments. By booking direct, there is no middleman and we can approach you as an individual and try to meet your needs on a case-by-case basis.

Source: Skitterphoto
3. Package Deals and Extras. We are always thinking about how we can enhance your stay and show off our amazing corner of Virginia. Starting in June we will launch our Rockbridge County Wine Tour, including picnic lunch and chauffeured service to all three vineyards. More package deals are in the pipeline, and if you book direct with Sugar Tree Inn, we can roll all your costs together. If you book through an online travel site, you can only book your room through that site. If you are interested in our packages, or extra services, like our dinners, you will have to purchase those in a separate transaction through us, which will require an email or phone call.

Photo by Vladislav Reshetnyak from Pexels
2. Price. We know room price is a huge deciding factor in your travel plan and in today's economy, we understand the need to stretch pennies. While we can't guarantee that our room rate will always be the lowest on the Internet 100% of the time, (Online travel sites have legions of staff dedicated to researching, analyzing, and adjusting price; as we mentioned, Sugar Tree Inn is just us.) we have no problem trying to match their price if you bring the discrepancy to our attention.
And the NUMBER ONE reason you should book direct…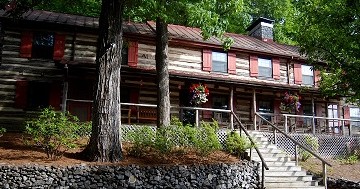 1. You are supporting Sugar Tree Inn. We know you work hard for your money, and when you come stay at Sugar Tree Inn you will see we work hard for you. When you book direct, you have the peace of mind of knowing that all of your money is going toward your stay, your food, the sugar for our hummingbird nectar. Every cent goes toward our efforts to maintain and operate the Inn. However, when you book through an online travel site, some of your money goes toward the sites' commission fees thereby reducing the amount we have left to put toward Sugar Tree Inn.
In closing, we would like to thank all you mountain lovers for your patronage. Because of your support Sugar Tree Inn has been providing guests the opportunity to unplug and relax for approximately thirty-five years. As technology oozes into every pore of our lives, my husband and I are adamant that places like Sugar Tree Inn need to exist in order to provide respite, if only for one night. We all need a place where we can escape, listen to silence and actually see stars. When you book direct, you help us carry on that legacy.
Until next time…we're looking forward to your stay.