Did you know that back in the day, between the wars, I'm talking Revolutionary and Civil, gristmills were like Starbucks? There was basically one on every corner. The Shenandoah Valley was no exception. In fact, just down the mountain from us is our sister bed and breakfast, the Osceola Mill. Then a few miles from them, following the Marl Creek, is the McCormick Mill. And a few miles from McCormick is Wade's Mill. We've traveled a distance of 6.5 miles between these mills, according to Google Maps.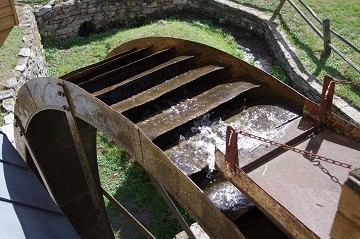 Osceola Mill reports that during the 1800s there were seven mills on the Marl Creek, with only the two noted mills remaining today. See? Starbucks.
But if they were so prevalent, why were they special?
Mills were a food source for both people and livestock. They were so important that during the American Civil War many of the mills in the Shenandoah Valley were destroyed as part of the hard war campaign adopted by the Union troops during the last two years of the war. As a result, Confederate troops, civilians, and livestock were deprived a food source.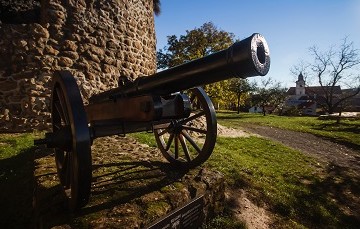 The remaining mills in this area that hobbled through the war then had to withstand Mother Nature almost a century later. In 1969 Hurricane Camille laid waste to anything and everything in her path stalling on the east side of the Blue Ridge Mountain, the sunrise side. Devastating mudslides and flash floods swept through the area. The James River and its tributaries swelled under the heavy rainfall. Nelson Country reported 27 inches of rain in a four hour period and lost 133 bridges. The business districts in Buena Vista and Glasgow, our brethren on the southern end of Rockbridge County, were submerged in 5 ½ feet of water and almost 14 feet of water, respectively, when the Maury River overflowed.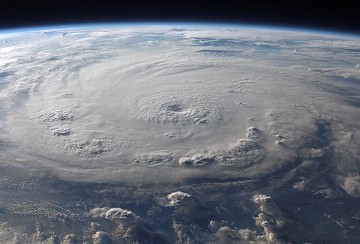 On this side of the mountain, the damage wasn't as deadly, but still noteworthy. Small streams and creeks rose quickly, washing out many locations that were on their banks, e. g. water powered mills. The Osceola Mill was damaged and shut down production due to Camille.
The McCormick Mill's history spanned the 1800s. According to Virginia Tech, the farm's current caretaker, the McCormick Mill was built in 1800. The Mill survived the war but ceased operation in the late 1800s.
And then there was one.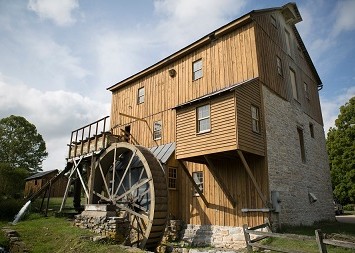 But WHY should I care? Aren't mills just quaint old buildings that old people take their picture in front of?
Well, yes and no, but mostly no. They do make great selfie backdrops regardless of your age and many gristmills are beautiful, some are quaint old buildings, some are refurbished masterpieces, and some are dilapidated pieces of…, well you know. Take a look at Old Mills of Virginia's Facebook page for some mill porn; they have over fifteen thousand followers.
So, why should you care?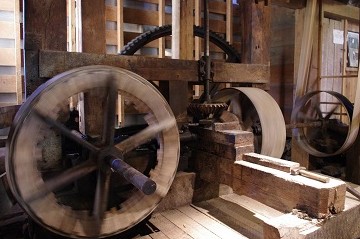 Because farm-to-table isn't just about grass-fed meat, organic vegetables, and eggs from free range chickens.  It includes your grain, too. Where does your flour come from? Does it come from some large warehouse that uses corn and wheat from somewhere? Or, is it locally sourced from a Virginia farmer committed to growing organic wheat and heirloom variety corn? Wade's Mills' flour and grits are. Not only is its product locally sourced, well some are from Pennsylvania, so not quite as local, but the current owners have opened up all three floors of the Mill to show you how it all works or used to work.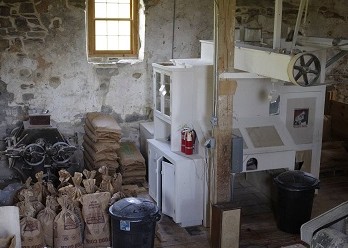 Wade's Mill continues the tradition of stone-ground milling, but the water wheel is no longer the power source. Back in the day, water-powered  mills followed the 80/20 rule, meaning 80% of their product was livestock feed (or distilling grain) and only 20% was usable for baking/cooking product after hours of work. Today, with electricity powered stone-grinders, the Mill is able to flip the 80/20 rule, thereby limiting waste.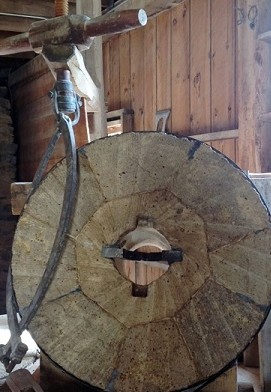 In addition to the Mills' transparency, they also curate Brownsburg Museum's past Exhibit on the History of Milling. Placards, posters, and vintage milling equipment adorn all three floors of the Mill. And if that wasn't enough, be one of the first visitors on the weekend (after 10 am, please) and help the them "turn on" the Mill. Our five-year-old loved helping.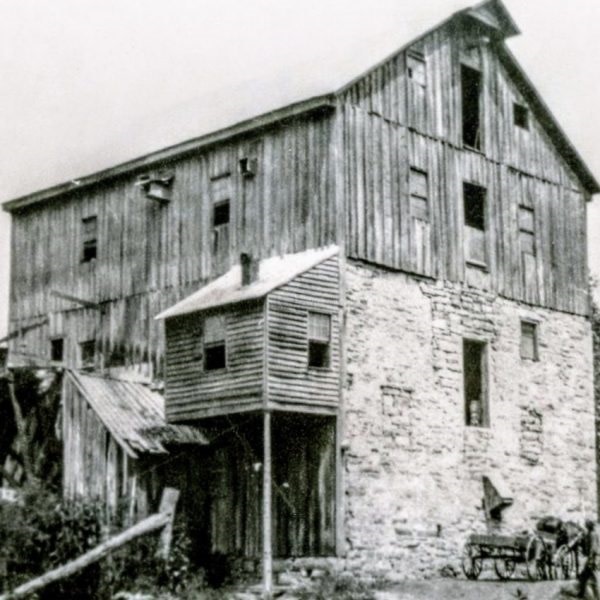 Wade's Mill (aka Kennedy-Wade Mill)
So, remember before when I was talking about the one remaining mill? Wade's Mill has the distinction of being "the oldest, continuously operated commercial grist mill surviving in the Shenandoah Valley of Virginia." Captain Joseph Kennedy, a Scots-Irishman, started it all when he immigrated to America in 1733. By 1750 the Mill was up and running on the power of "Captain Kennedy's Mill Creek." The Kennedy's owned and operated the Mill until 1882 when they sold it to the Wade family, who took over production for almost a century. Jim and Georgie Young purchased the Mill in 1991. They continued operations and also offered cooking classes. In July 2016, the Youngs sold the Mill to the current owners, John and Karen Siegfried. The Siegfrieds purchased the Mill "with the commitment to preserve and continue the 260+ year tradition of family owned and operated stone-ground milling in the Shenandoah Valley."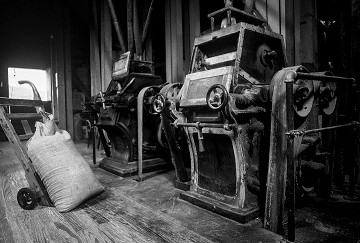 Pretty great history. Right? And it's in our backyard. So…
This year, we, Sugar Tree Inn, are committed to working with more local businesses and showcasing our beautiful region of Virginia. As part of this commitment, we are pleased to announce that we will be working with Wade's Mill on multiple fronts.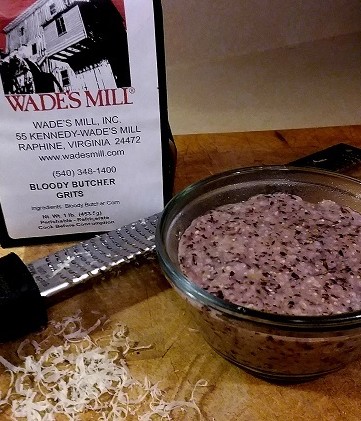 1. Grits: To Serve.
As part of our "nothing fancy, but good" approach to food, we have added cheesy grits to our dinner side option. Wade's Mill offers five varieties of grits that we are diligently tasting our way through. With names like Bloody Butcher, White Nighting, and Wapsie, it's hard not to be swayed by their heirloom varieties, but this weekend we served the white grits to rave reviews. (If you are interested in how we prepare our grits, see the recipe below.)
We know you might be wrinkling your nose, but we are below the Mason-Dixon Line and in Appalachia's Blue Ridge; grits are a staple.

2. Grits: To Buy.
In addition to serving the grits, we are excited to sell the Mill's grits. We will be opening a local cupboard and Wade's Mill products are our first offering. Of course, if you buy them from us, you will miss out on the amazing piece of Blue Ridge heritage that the Siegfrieds are preserving. But if you're short on time, we understand. You'll just have to come back. Hint: Wade's Mill hosts an Apple Butter Festival in October and last year we hosted an Oktoberfest the same weekend.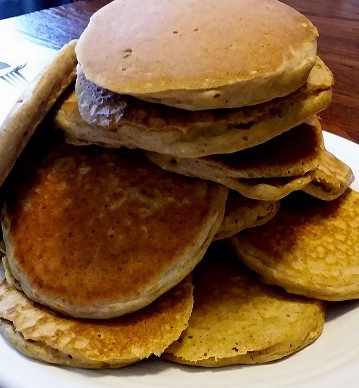 3. PANCAKES!
Who doesn't love pancakes?! (Weirdo.) For all the rest of us, what is better than sitting back on a lazy weekend morning with nothing to do but watch the chipmunk hull a hickory and enjoy a plate full of fluffy, buttery pancakes topped with maple syrup and sip on your favorite morning beverage while the smell of bacon wafts from the kitchen. Amazing. Best part about doing that here? No prep, no cooking and no cleanup, for you anyway.
So, pancakes. Over the years, Russ has been experimenting with his pancake mix. We think he has really stumbled across a combination of ingredients, proportions, and technique that create the kind of pancakes our family enjoys and we want to offer it to you. Wade's Mill will help us create a Sugar Tree Inn pancake mix, utilizing the Mill's products. We will then be able to serve and sell our mix. So, exciting!
Timeline.
The above collaborations will be up and running within two months. In fact, as noted, we are already serving the Mill's grits. The pancakes are on their final rounds of tweaking, so they'll be ready soon. As for the local cupboard, that will take the longest to roll out. Currently, the cupboard is ideas and a sketch that I jotted down and gave to Russ, who sighed, rolled his eyes and walked off, I imagine, because he was so inspired by my artistically flawless rendering that he had to begin production. Yep. I'll keep you posted.
Regardless, Wade's Mill, like us, is now open for the season, so if you're in the area, check them out. Even if you're not in the area, plan a day trip. It's beautiful out here around the Blue Ridge Mountains and Shenandoah Valley part of Virginia. If you are interested in the Mills' products, they have a great website which I have linked throughout this article, and you can order online.
We do have one request, please see below the recipe.
Tip: If you want to print the recipe, just right click on the recipe below, save, and print. That way you don't have to print out the whole blog post and waste paper.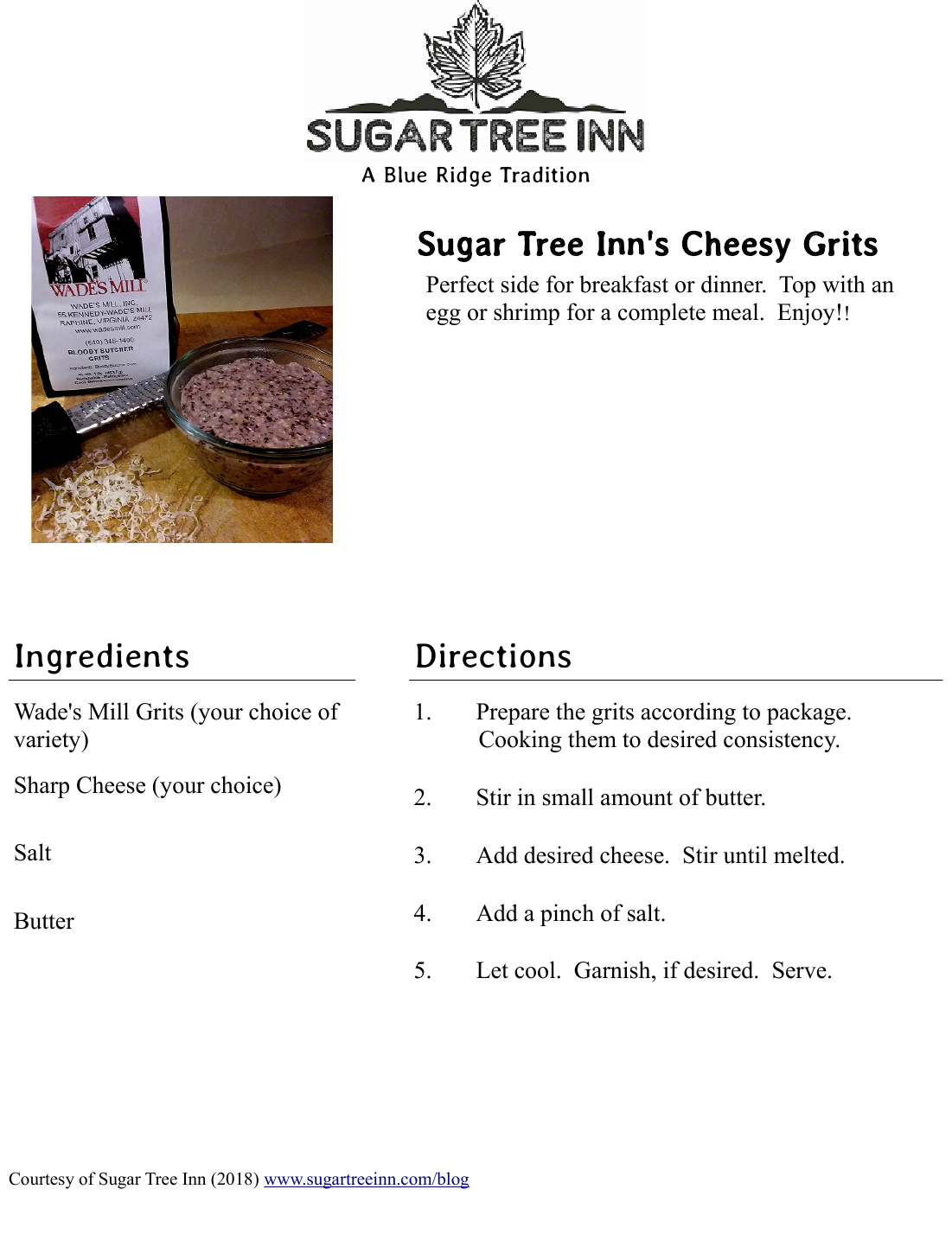 Closing Request.
We would love to hear your experience and memories from Wade's Mill, other Virginia gristmills, or other mills in general. We know our guests love to travel and explore. Feel free to share a picture in a Facebook reply to this post, or tag us in a picture you already have posted. Thanks!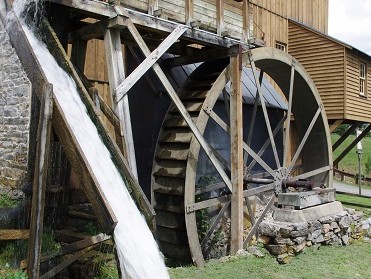 Until next time…We're looking forward to your stay!