….We'll be waiting for you.
I know our loyal readers (Hi, Mom! Hi, Aunt Peggy!) have worn out their refresh button while waiting with bated breath for our next installment of Innkeepers Wanted, the official, unofficial blog title. Well, it is finally here. And after committing one of the cardinal sins of blogging, inconsistent posting, I will repent and change my ways. Translation: I've created a blogging schedule and I'm going to stick to it. Right now that means posting once a month. We'll see how it goes.
So on to the invaluable wisdom of this post: meeting the innkeepers. If you are new to all things Sugar Tree Inn, great, so are we. My husband and I purchased the Inn in December 2016 and since we have yet to experience a full year of innkeeping, we can still claim newbie status. Despite our stature, I thought I'd tell you a little bit about us, our mission and our experience thus far.
But first, let me begin by telling you what you will not find here, or on any other site: a picture of us. I know, disappointment all around. The Husband, a.k.a. Russ Fox, has never been a big picture taker. I'm pretty sure that in the thirteen years that we've been together we might have half a dozen pictures of us, so about one every other year. Maybe. Our wedding was a real coup for me, I came away with some pictures where he was actually smiling and looked happy, not cringing and contemplating creative ways to break the camera. So, since part of our business philosophy is staying true to ourselves, I can't very well ask The Husband to do something that is so against his nature. A conundrum indeed. Thus, after months of contemplation, I finally have a solution.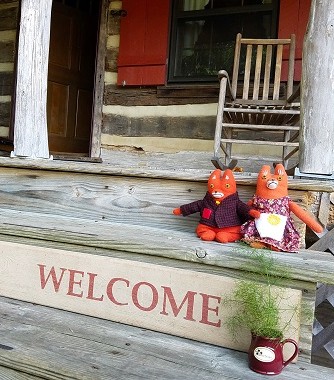 Innkeeper History
Meet the fantastic Mr. and Mrs. Fox, the innkeepers. And just how did these two crazy cats get into innkeeping, you ask. Well, it was a deep longing of mine to be an innkeeper…No, not really. It was a practical decision on our part. Mr. Fox's profession kept us moving around to try and stay relevant with his industry. In fact, we have lived in four states in our thirteen years together. We have also welcomed two cubs to our family and we wanted to settle, with Virginia being the most likely locale since we both grew up here. (Well, technically Mr. Fox is a half and half. Half Jersey. Half Virginia.) So, after years of trying to make our square professions fit into the round locations we wanted to live, we decided to branch out on our own. I made a list of all the things we knew how to do, ( I did mention it was a practical decision.) and started brainstorming. Innkeeping seemed to be a natural extension of our skill set. So, we made it happen.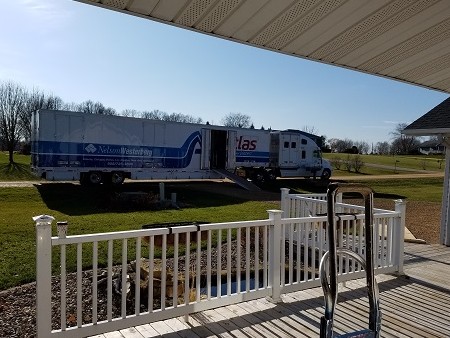 With two small cubs and three senior pets, we moved from Minnesota last December to take up the mantel at Sugar Tree Inn. And so far things are going well. We are still learning the business end of things, but we have faith in our abilities and a supportive family. We also have wonderful patrons. You guys have been very encouraging. Thank you!
Innkeeper Mission
Now that I've given you a quick history, I thought I'd take a moment to expand on our philosophy or mission. As I mentioned above, innkeeping was a natural progression of our skill set, therefore the services and hospitality we provide are a natural extension of who we are. In our home, we believe in quality products and strive for a balance of practicality, functionality, and style, while attempting to be as environmentally conscious as we can. An easy balance, right? So, of course, we try to extend our ideology to you. To date, we have upgraded shower heads, which are both water conserving and massage inducing. We've replaced sheets, so now they are soft and require less energy to launder. We've also had one of many roofs replaced with longer lasting material and are swapping out fluorescent bulbs for LED. As you can tell, we are making headway, but there is plenty more to be done to spruce up the old lady.
Another area of our lives that we try to be mindful of is what we put in our bodies. I know this may sound a little new agey, but don't be fooled. It doesn't mean that we will start serving tofu and lettuce wraps, both of which can be delicious; it just means that we want to be sure that the products we are serving you are minimally processed and minimal added chemicals or preservatives, hence our homemade-this, and made-from-scratch-that. We want to prepare food for you the way I prepare food for our family and the way Grandma Fox, Babcia, would be proud: full of fat and love. We would love to offer more locally sourced food but that will come with time.
Innkeeper Experience
So, I've covered our history and philosophies, now on to our experiences thus far. Well, as I mentioned above, our patrons have been very encouraging from helping us with botany and ornithology to being Guinea pigs for our new menu items to understanding when Cub #1 runs through the dining room pretending not to see you so he can inform us that it is time for his dessert. Our major concern when undergoing this endeavor was figuring out how to balance work and home when we are literally open 24/7 and our job is to provide hospitality and serve others. How does our family fit into the equation? Finding a balance is tricky, and like many of you, some days are better than others, but we keep working at it. One way that we have helped ourselves to find balance in our family is by offering dinner baskets during the week instead of offering sit down dinners.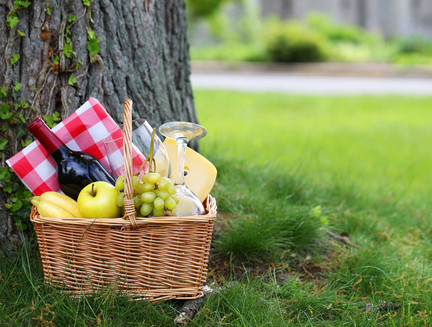 https://www.dreamstime.com/kguzel_info
We will continue to offer full Friday/Saturday dinners, but by offering dinner baskets during the week, we can ensure, as best we can, nightly dinners and a routine for our cubs, while patrons get a intimate dinner for two to be enjoyed anywhere they'd like, our front porch, the tavern, in front of a fire in their room, or a quiet nook on our grounds. We began the baskets this summer, and so far, response has been fairly positive. As the weather cools, we will add a hearty soup to the baskets, to warm you up during our chilly mountain nights. So, we would like to, once again, thank you guys for your patience, your understanding, and your smiles. It has gone a long way to bolster our confidence. As a tangible thank you, we will be creating a Sugar Tree VIP program. I'm putting the finishing touches on the program now, but hope to roll it out by the end of the year. The program will be offered first to those of you who have undertaken our maiden voyage with us this first year, and then extended to other patrons who are interested but we have yet to meet. We know you are out there and we are excited for the day we can meet. The program will include free gifts, special promotions, credits to free night stays, and private access to social media groups. Like I mentioned, you will receive a formal invitation via snail mail around the new year. If you are interested in the program, but have not stayed with us in 2017, please feel free to contact us and I would be happy to send you an invitation during the premiere mailing.
And there you have it. You have met the fantastic Mr. and Mrs. Fox. (The novelty of that last name does not wear off folks!) We hope you'll come meet us in person some day. But until then, we would love it if you followed us on social media; we are active on Facebook and Instagram right now where Mr. and Mrs. Fox will be making regular appearances. Also, you should definitely sign up for our newsletters. I'm attempting to send them out once a month, highlighting goings on around the Inn, local events and any specials we are running. However, if you don't feel like committing just yet, then keep checking in on our blog, which I hope to make an eclectic mix of area food and travel, insider's tips, recipes, nature, just a little bit of everything. After all, innkeeping entails a little bit of everything. Well, until next time, when I may or may not provide a certain baked oatmeal recipe. We are looking forward to your stay!