In honor of Earth Day, and yes I realize it was actually last Sunday, I wanted to highlight a nearby destination that many of our guests aren't familiar with but offers an alternative waterfall and hike to the ever popular Crabtree Falls. Saint Mary's Wilderness. St. Mary's is a 9,826 acre US Wilderness Area established in 1984 and located within George Washington National Forest.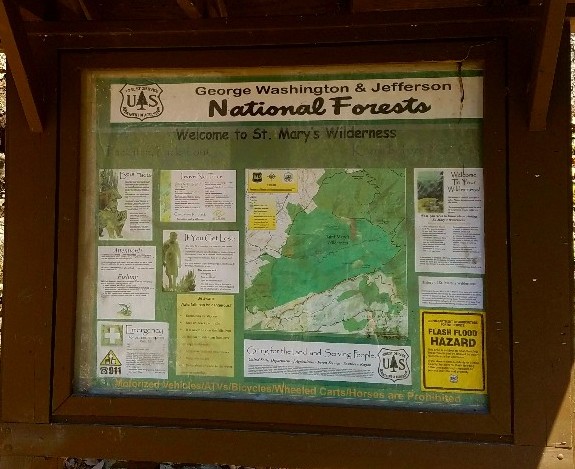 From our place, all you have to do is drive down the mountain into Vesuvius, pass Gertie's, turn right at the white church before the bridge. Wind back through the road, follow the railroad tracks, turn right on St. Mary's Road across from the meat processing business. Follow St. Mary's Road, pass Coal Road and the hunt club sign, proceed onto the gravel road and into parking log of St. Mary's Trailhead. Now those directions were country, ya'll.
If you want to be fancy, you can enter St. Mary's Wilderness via the Blue Ridge Parkway. Just kidding about the fancy part. The Parkway entrance gives you access to a different set of trials in the Wilderness and the only available camping sites.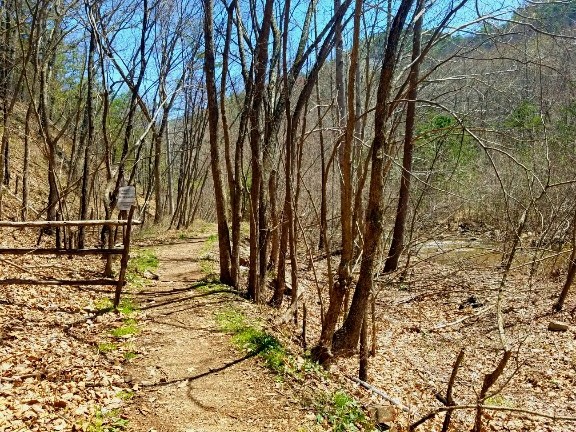 Saint Mary's Backstory.
When I began researching this post, I erroneously thought that I would highlight the evolution of St. Mary's Wilderness by creating a timeline of events beginning with the mining company that staked a claim to the mountain and ending with the current Wilderness area. However, once again, the story has taken a different direction and the tenacity of the Blue Ridge Mountain residents shine through.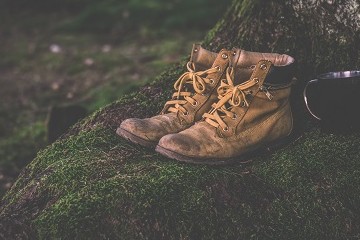 Photo by Lum3n.com from Pexels
If you want to appreciate the beauty of St. Mary's Wilderness all you need to do is pull on your hiking boots or your waders and hit the trails. Approximately 17 miles of trail snake around the Wilderness and take you through the gorge, riverbeds, rock outcroppings, vistas, waterfalls and swimming holes. Mountain laurel and rhododendrons infuse the tails with color while technicolored lures from anglers dot the river. Needless to say, you get to view a little bit of everything that makes our mountains so enticing.
However, if you want to understand the beauty of St. Mary's Wilderness, then we need to dig a little deeper. And what better place to begin, than "back in the day…"
Photo by Pixabay.
Northern Rockbridge Country: First Half of 1800s.
Alright, I'm going to take you back to 1840s Northern Rockbridge County, so approximately twenty years pre-civil war. The Shenandoah Valley and Blue Ridge Mountains of Virginia depended heavily on an agrarian lifestyle. Cyrus McCormick was attempting to peddle his newly designed mechanical reaper to local farmers, but they considered it unreliable. As a rule, mountain folk don't trust new.
In addition to farming, locals knew the mountains were rich in resources and minerals for daily life. The mountains had water, timber, and iron ore deposits; the perfect components for iron production.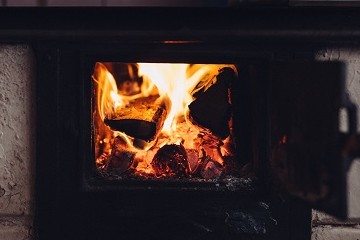 According to an oral history of Vesuvius, Virginia, the "old Iron Furnace" was built around "the middle of the first half of the eighteen hundreds." 1828, for clarification purposes. The Furnace was a cold blast furnace, which utilized charcoal for its heating source during the production of iron. In order to get the charcoal, they burned the plentiful mountain timber, then melted the ore from the mountains down into pig iron, which is used in the production of steel. By 1843, the old Vesuvius Foundry was built and used the pig iron from the Furnace to manufacture iron for plows which were then sold to local farmers. See, practical people. Use what you got, to make what you need.
So, mining was a big deal in the mountains. There was iron mining, manganese mining, tin mining, limonite mining, and even gold prospects just to name a few in Northern Rockbridge County.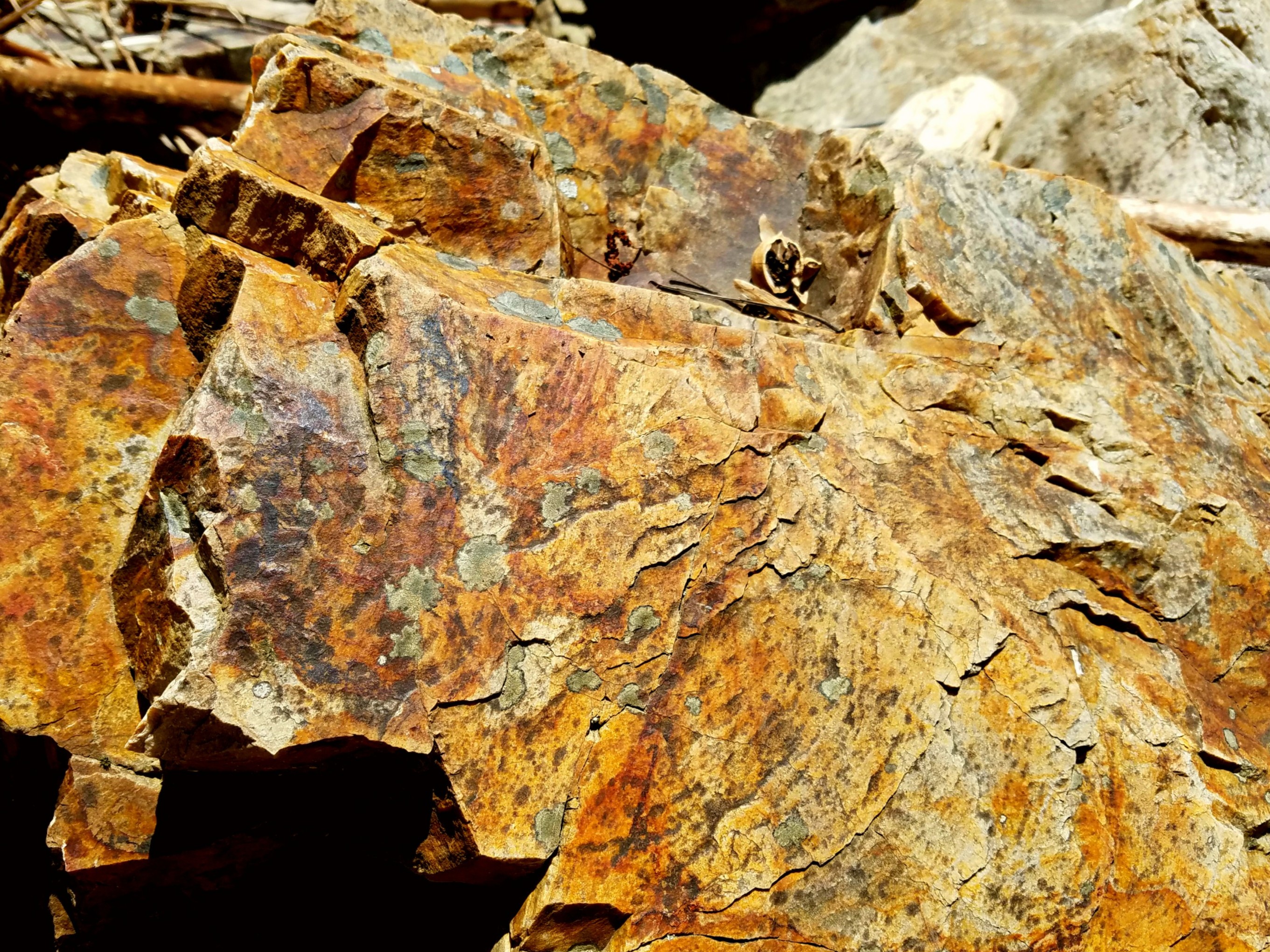 Northern Rockbridge County: Second Half of 1800s.
By the time the Civil War rolled around, the Foundry was producing iron for the Confederacy in the form of cannons and war weaponry. Again, practical.
After the War, iron production slowed. By 1870, the cold blast furnace was being replaced by the hot blast furnace which was fueled by coke. And that is coke, as in, a grade of coal, cause I know you were wondering. Additionally, one year of fueling an average furnace with charcoal could deforest up to 300 acres. So, switching to coal saved our Appalachian mountains? Forest? I'll have to think about that.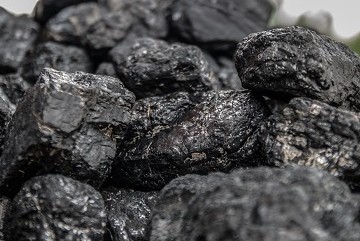 Photo by Pixabay
Coincidentally, 1870 was the same year the "old Iron Furnace" burned down, but it was rebuilt. (And burned again in 1913, not to be rebuilt.)
Despite the aforementioned mining in this area, coal mining was not part of the geological composition of this area and access to coke coal was limited. Coke would need to be procured elsewhere and shipped, which would be cost prohibitive for most of the mountain residents. As a result, many of the small furnaces in the area were abandoned. But the mining of iron ore deposits in these mountains continued. In fact the following is an excerpt from The Virginias, A Mining, Industrial & Scientific Journal in 1883 with regard to St. Mary's iron prospects, "He will see,…, that the same ranges of ore here promise good results whenever subjected to more extended and systematic mining than was practiced in olden times."
Washington & Lee Professor J. L. Campbell, who wrote the report goes on to reason that:
"The nearness of this property [Saint Mary's] to the Shenandoah Valley Railroad, gives it a value that it never could (sic) have attained without the facilities for transportation thus secured. Convenient sites for furnaces may be readily procured near the line of the road, to which the ores and limestones abounding in the neighborhood, and coke from West Virginia or Pennsylvania may be readily brought together for the manufacture of ore on any desired scale."
So, the equivalent of right time, right place. Or, wrong time, wrong place, depending on your point-of-view. Iron was a national commodity and anywhere America could get it and get it for cheap, making it a little less reliant on outside sources, the better.
It is also worth noting that the Shenandoah Valley Railroad was laid through Vesuvius in 1882.
And thus was the story of the mountains for the next seventy or so years. Mining activity and logging finally ceased on the St. Mary's tract in the mid-1950s.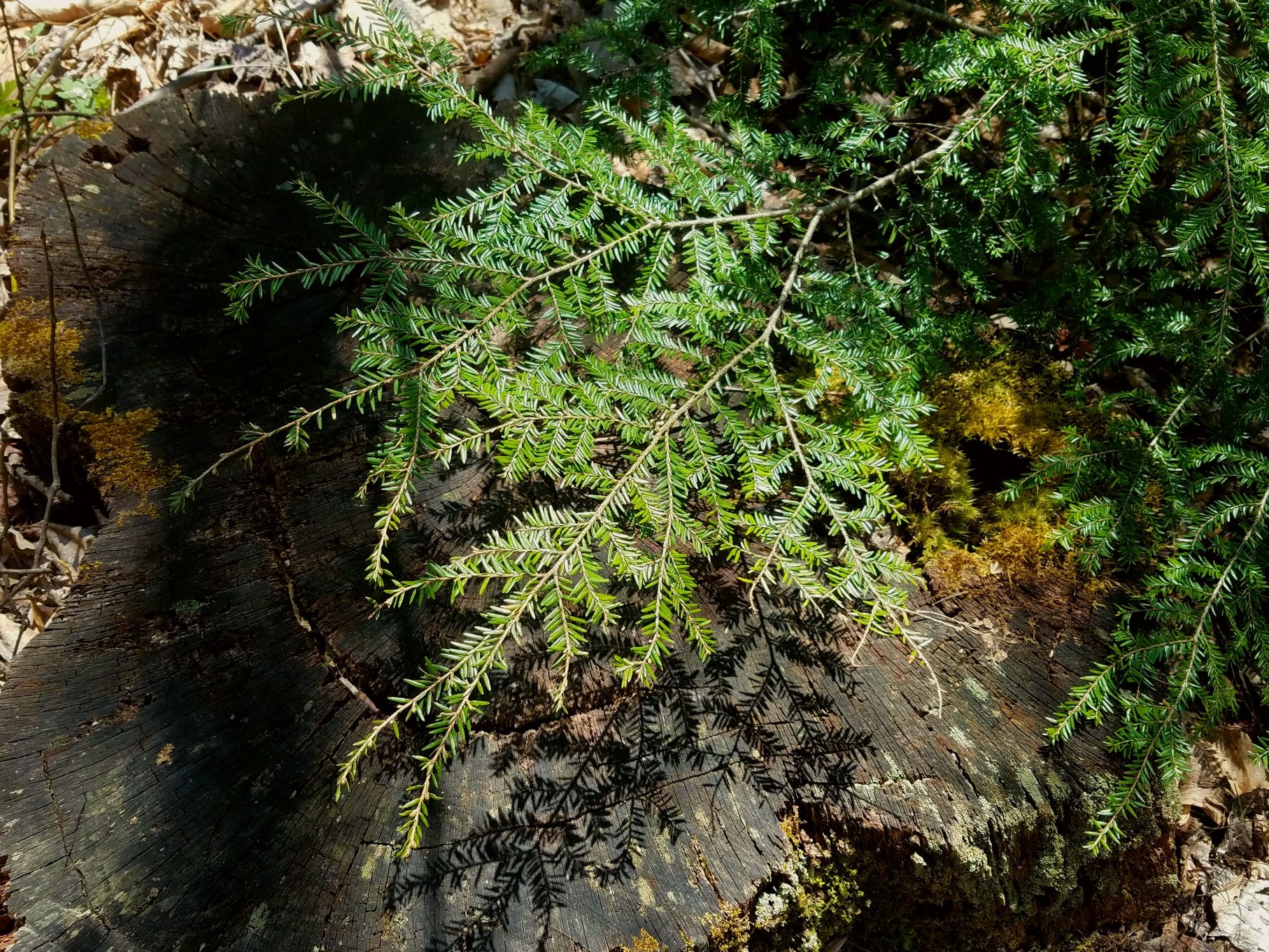 St. Mary's Land: Back to Wilderness.
By the mid-1950s, the mines located within the St. Mary's tract were abandoned. Much of the timber adorning the mountain was stumps and the landscape was scarred with the remnant of man's industry: mine pits, hastily laid railroad tracts to transport the product out, and various mining sundry. The Surface Mining Control and Reclamation Act of 1977 wouldn't get passed for another twenty plus years, so what was a wildlife advocate to do?
Well, did you know about the Wilderness Act of 1964? The Act defines a wilderness area as that "where the earth and its community of life are untrammeled by man; where man himself is a visitor who does not remain." I like it. Virginia followed suit in 1984 with its own Virginia Wilderness Act, wherein the approximately 10,000 acres of St. Mary's land was designated a Wilderness. Yeah!
The Federal Wilderness Act further defined Wilderness as "undeveloped Federal land retaining its primeval character and influence, without permanent improvements or human habitation, which is protected and managed so as to preserve its natural conditions." So, basically, you just let it be. Watch it. Enjoy it. Don't touch it.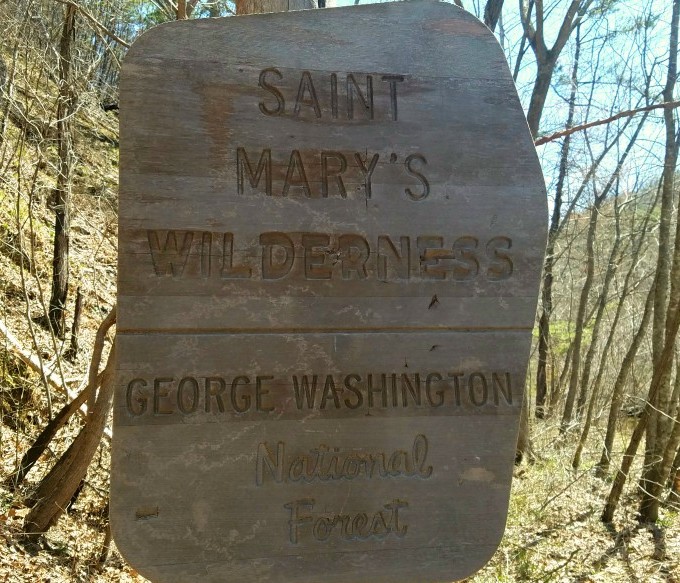 St. Mary's Land: To Wilderness and Beyond.
The Virginia Department of Game and Inland Fisheries' (VDGIF) reports that environmental studies on St. Mary's River began as early as 1936. (During the mining years, the river was used to clean the ore removed from the mountain, separating it from unwanted minerals.) Early testing results would be a priceless standard by which future results could compare.
By 1948 VDGIF began stocking Virginia waters, including St. Mary's River, with brook and rainbow trout. However, approximately 25 years later, an access road to St. Mary's River was washed out, so stocking ceased. From 1976 on, St. Mary's River and the trout, both brook and naturalized rainbow, have sustained themselves, sort of.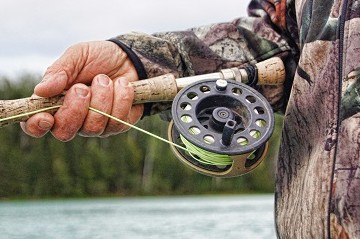 Photo by Pixabay
So, why am I talking about testing and trout stocking, both of which reek of man's involvement?
Well, due to this testing and monitoring, (VDGIF continues monitoring the trout) scientists, officials, and nature lovers alike were able to see that St. Mary's land needed help in order to "preserve its natural conditions."
So, in 1984 it became designated Wilderness. Helpful step number one. Helpful step number two: liming the stream. What?! Foul. Human Intervention. I know, I know. Hear me out.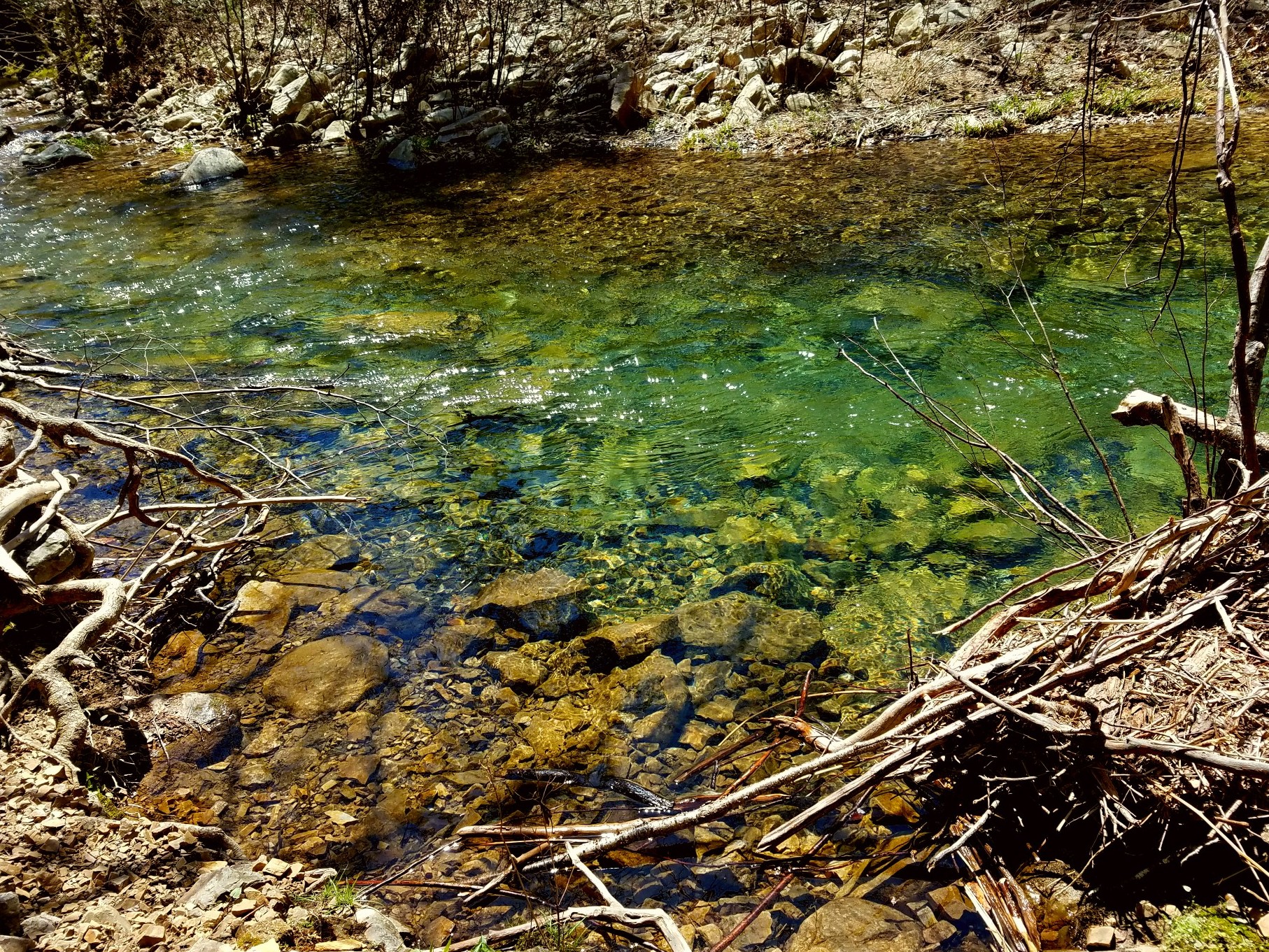 Due to man-made stressors, sloppy mining practices and air pollution/acid rain, the aquatic life was dying. Exacerbating these man-made stressors, was Mother Nature, herself. The geological composition of St. Mary's River was not able to counteract the additional acid it was receiving, thus accelerating degradation. Environmental monitoring continued and in 1999 it was decided that "targeted management actions" would be taken in order to prevent the extinction of native aquatic life. They limed the streams, i.e. St. Mary's Wilderness Managers, via helicopters, dumped 170 ton of crushed limestone in strategic St. Mary's tributaries. Liming was done in 1999, 2005 and 2013. To date, no negative effects have been documented, and you know they're monitoring.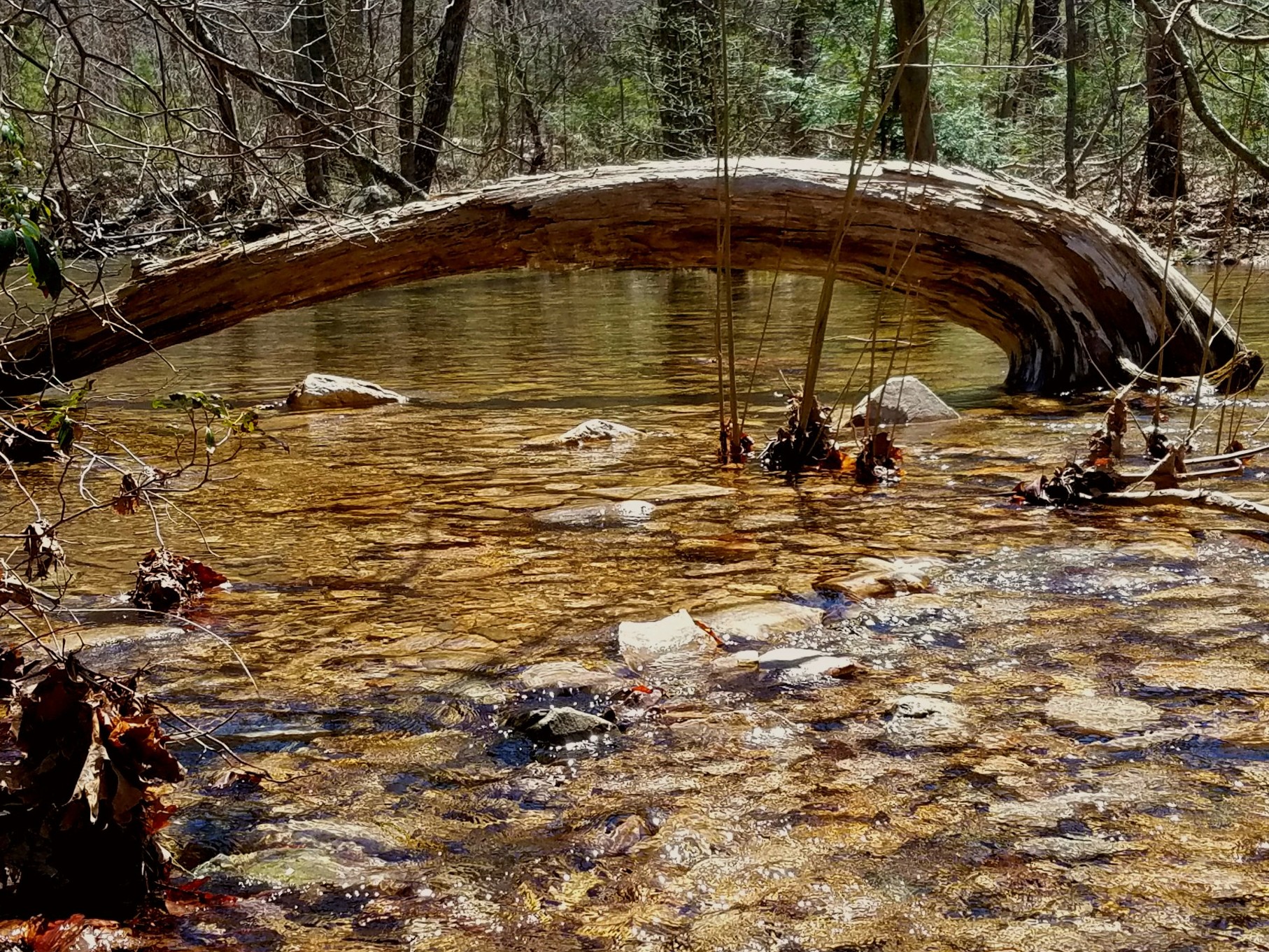 In all fairness, there have been other instances where humans intervened. Forest fires. The most recent fire occurred just two years ago, and burning is still evident in the forest today. Firefighters used a controlled burn technique to contain the fire that consumed over 800 acres.
Alright, let's wrap this puppy up. So whether you agree or disagree with forest management techniques, the overarching call to action for Wildness Managers is to preserve the natural conditions of the Wilderness as minimally as possible. Once again, a simple concept, but not always easy in practice. Life is gray matter. But as I walk around the forest and see Mother Nature reclaiming what is hers, I say kudos to the Managers and everyone who cared enough about preservation to protect Saint Mary's. We can, and should, save some of our lands for future generations, so they can walk around and remember.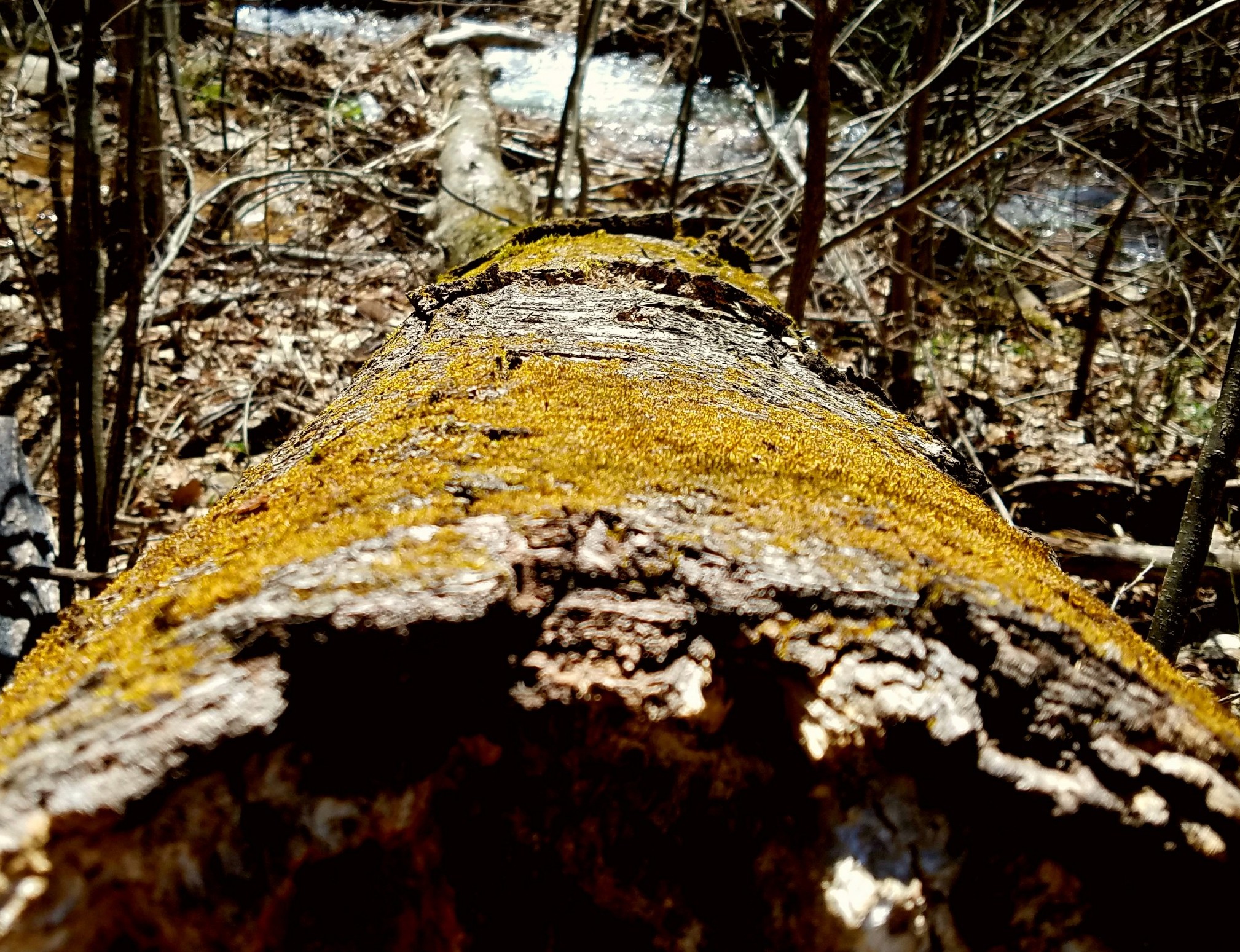 I hope now you can better understand the beauty that is Saint Mary's Wilderness. She may be scared and slightly acidic, but much like the people that surround her she soldiers on and that makes her amazing. So, pull up your hiking boots, grab your fishing gear and hit the trials. Practice the "Leave No Trace" principles. And don't forget to look up.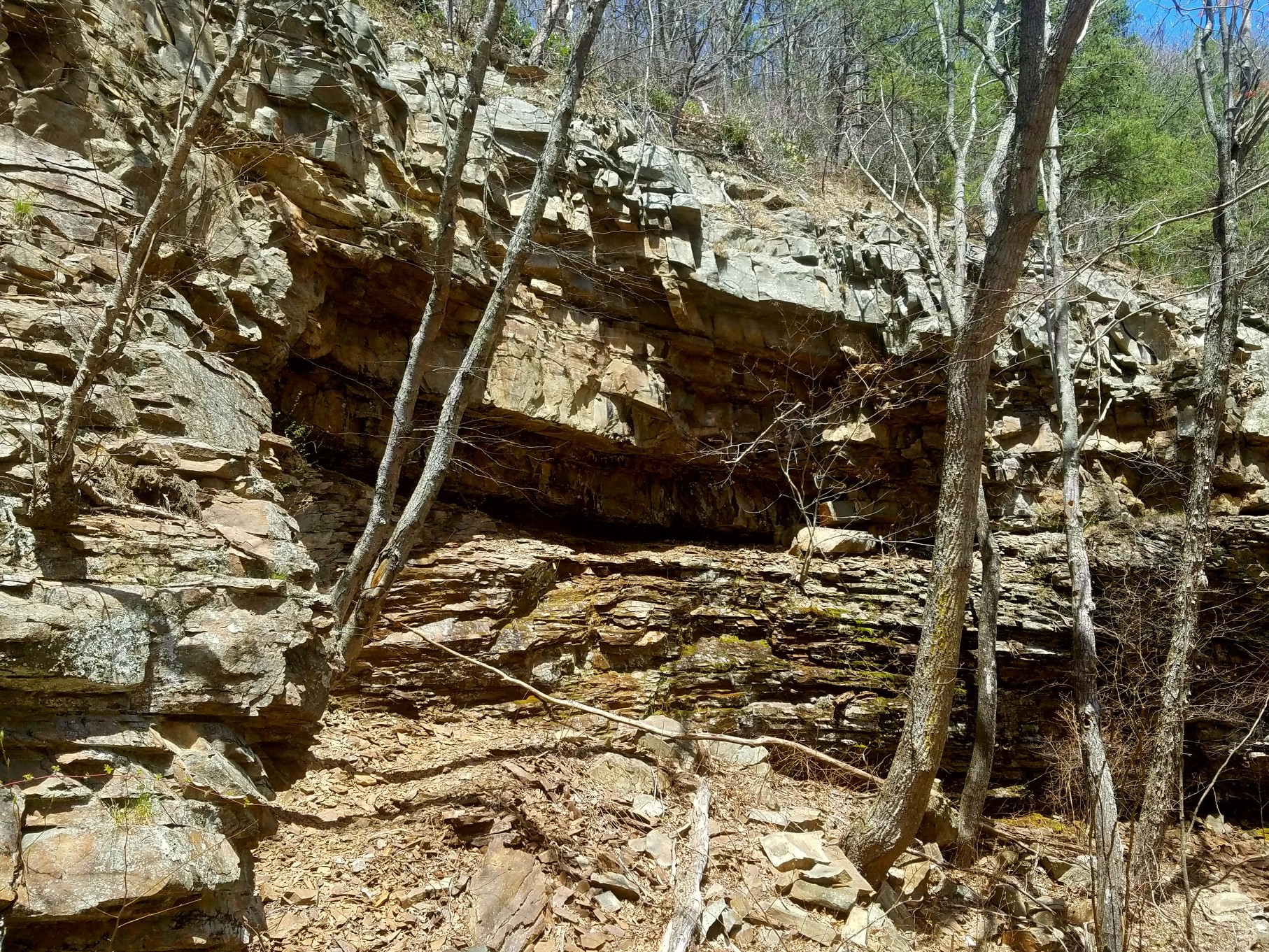 Closing Request.
Mountain lovers, you know what I'm going to ask. What is your story to tell about Saint Mary's Wilderness or any of the other Wilderness area across the country? Share your story in the Reply to our Facebook Post. Don't have a story, but do have a picture? We'd love to see it. Tag us.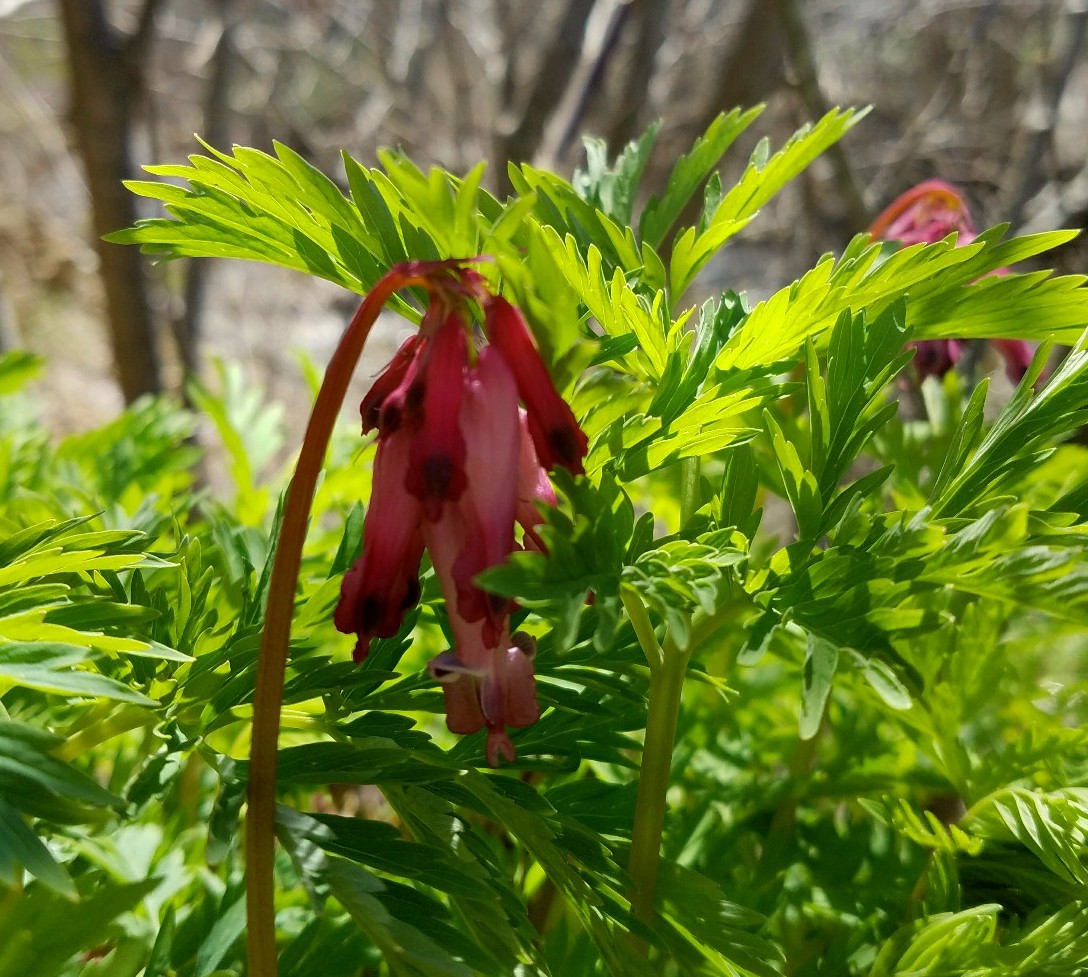 Until next time,…we're looking forward to your stay.