The holiday rush is over. All the gifts have been dispersed, kids' activities have died down, and the crazy relatives that ate all your food and drank all your wine have all returned to their ships. Now comes the welcome solitude of the winter months with a quiet beauty to the landscape that we don't always notice because we're too busy griping about the cold. But up here in Virginia's Blue Ridge Mountains, it's hard to ignore.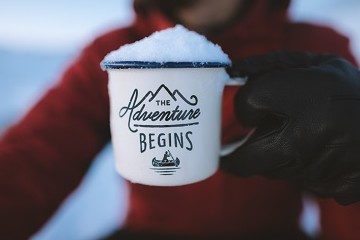 We've put together our winter bucket list of activities in and around Rockbridge Country that we love to do and think you will too.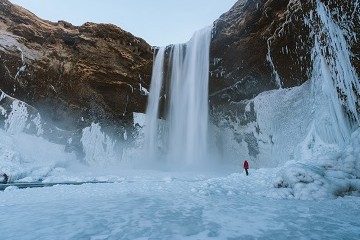 1. Hiking a waterfall trail.
Though I grew up in Virginia and hiked in the Shenandoah National Park quite often, I never really appreciated the beauty of winter hiking until we lived in Minnesota. After winterizing myself and our 2-year-old to the extent of Ralphie a la A Christmas Story, my husband donned a fleece coat and beanie and we hit the trials. I was amazed.
Since I was secure in my insulation, I had time to unclench and observe nature. I'm not sure what I expected, but I had some vague expectations of crystallized water. What I discovered was so much more complex. Whole waterfalls frozen, not in one sheet of ice, but in intricate tendrils. Some falls were frozen all the way through, others were just frozen on the surface and you could hear the water beneath and in some cases see the water flowing below the ice. But the most amazing part was the mist. It was frozen motion. It was delicate and it was everywhere: on the side of rocks, accentuating the cascading sheets of ice, or defying gravity. It softened all the hard edges.
And that, my friends, is what will keep me coming back again and again despite the cold temperatures or the monotony of hiking the same hike again because the mist is always changing and reforming and the ethereal ice is awe inspiring. Besides, a warm mug of cider with a shot of whiskey will warm me right up once I'm home.
So, where are these waterfall hikes? Well, within ten miles of Sugar Tree Inn we have three waterfalls: Crabtree Falls, White Rock Falls, and St. Mary's Wilderness. And, as a bonus, if you don't want to leave our property, we too have cascades in our creek, which is very full this year due to all the rain, so it should make for lovely winter viewing. Each hike has its pros and cons, and we'd be happy to talk it out with you so you find what you're looking for. However, we are by no means experts in this area, so please, if you have never hiked in the winter, talk with the local rangers and/or an outfitter for gear recommendations and safety considerations.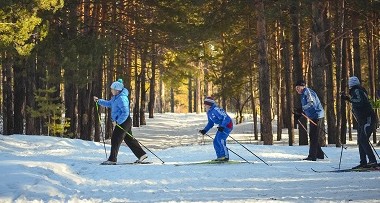 2. Cross-Country Skiing/Snow Shoe Hiking on the Blue Ridge Parkway.
It is a well-known fact that the Blue Ridge Parkway is a popular tourist destination, often referenced as "America's Favorite Drive." But did you know about the secret season? That's right, during the winter, sections of the Parkway are often closed due to inclement weather. They don't plow the Parkway. No vehicles are allowed on the closed section, but foot traffic is. Glide across the ridge and experience the views from the Blue Ridge Mountains blanketed in calming snow that few people get to see.
But where do we find these closed sections of the Parkway and how do we get there? Sugar Tree Inn happens to be located just one mile off the Parkway, Mile Marker 27 to be exact. No need to travel too far for this rare experience. Just hop on VA Route 56, which the Virginia Department of Transportation does a wonderful job keeping clear throughout the winter, travel one mile, park around the Blue Ridge Parkway Entrance/Exit ramp, and have at it.
As for finding the closed sections of the Parkway, we can say from experience that the sections of the Parkway just north and south of Mile Marker 27 get closed on a regular basis during the winter. But for update-to-date and accurate closings, check-out the Blue Ridge Parkway's interactive road map.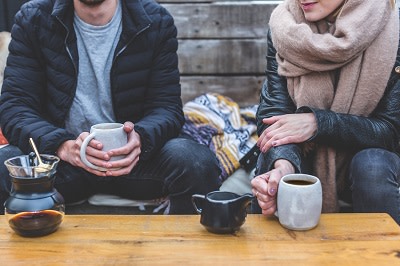 3. Visiting our local businesses and talking shop.
Let's face it, the winter is slow for all of us, so when I get a chance to get down the mountain I love going around to our local shops and small businesses and catching up. And if you really want an inside look at a gristmill, or you ever wondered what vineyards did in the winter, hit up our local businesses and strike up a conversation. We love finding out what brought you to our neck of the woods, and we'll tell you what you want to know. Well, within reason and the scope of our knowledge, of course.
Why are we so chatty? Because around here Fall is our busy season and we don't have nearly enough time in our day to spend with all our guests/customers giving them extra individual attention. Don't get me wrong, the Fall is a wonderful time of year around here and definitely an experience that shouldn't be missed, but it runs at a faster pace than the winter. And after the rush of Fall, we are ready to relax and get back to more one-on-one attention to our guests.
And, finally,…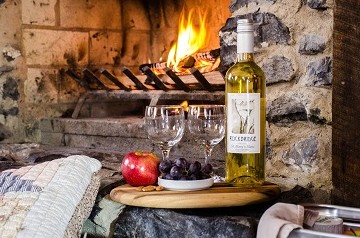 4. Doing absolutely nothing.
What is better than curling up with a book and blanket in front of a crackling wood fire on a cool winter day? Add some coffee or a glass of wine or whiskey to your hand. (You'll have to provide your own whiskey, but we have the other two.) How about playing a game of cards, or checkers? Having a Scrabble tournament? Watching a VHS movie? (That's right, we still have VHS Players here.) How about staying in your pajamas all day and taking naps? Don't worry, we won't judge. How often do you get days to yourself with no kids or pets running around? Take advantage of this time. Be lazy! Love it! You earned it!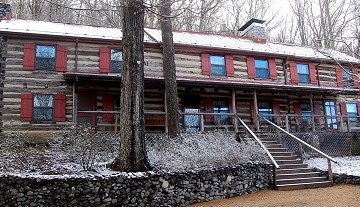 So there's our list people. Four activities to do in and around Rockbridge County during the winter. Here at Sugar Tree Inn, we are excited to share the winter season with you, so we will be open on a limited basis, weekends-only, January, February and March 2019. Peace and quiet in the mountains, king beds, in-room wood burning stone fireplaces, and food all included. Book early because availability will be limited.
So, we've told you our list of favorite winter activities, but what about you? What do you enjoy doing after the holiday rush has died down? Share your winter bucket list with us!
Hope everyone has a safe holiday season and we look forward to your stay!